Last Sunday we blogged about John Piper's Biography Resources and I promised a great Christian biography as our GiveAway this week. The book we are giving away is: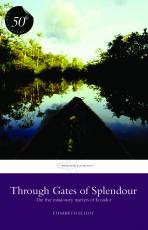 As usual the book was sponsored by:

Through the Gates of Splendor by Elisabeth Elliot tells the story of her husband Jim Elliot and his four missionary friends as they tried to witness to the Auca Indians, a tribe that lives in the depths of the Jungles of Ecuador. She writes the story by weaving excerpts from their collective diaries together and demonstrates how each of their lives were directed and became focused on witnessing to the Auca tribe. The book builds the way through their training and preparation of these men and their families and finally ends with the radio silence as the missionary wives waited to hear from their husbands at the end of the fateful day.
These five men were mercilessly killed by the wild and savage tribe, before they even had a chance to interact more than superficially with them. Yet the story doesn't end there, going beyond this book and within two years of Jim's death Elizabeth and their very young daughter Valerie were able to go and live amongst the Auca people, they were able to be a witness and to share the Gospel with them. The tribe became a friendly, Christian Tribe, serving God in the heart of the jungle.
Jim Elliot had a famous quote that demonstrates his commitment to follow God – even at the cost of his own life:
"He is no fool who gives what he cannot keep to gain what he cannot lose."
Jim's story really began many years before when as a young boy Jim's parents introduced visiting missionaries into their home and he dreamt that he would grow up to serve as a missionary. We too surround our children with missionaries serving around the world where ever we can. Not necessarily fearing that they may die for the gospel but so that their hearts can be encouraged and it be quite clear that when the going gets tough, they may have many examples of great Christian heroes who never give up in serving God no matter what.
I also promised that I would supply some kid resources for this book and here they are:
My favorite kids online resource for Jim Elliot is the Torchlighter DVD page from the Christian History Institute. And it is well worth the effort of registering on this site to have a look at "The Guide" – a pdf file that you can freely download and is a fabulous resource for kids. This is amazing, it includes details of each of the missionaries involved and maps and excerpts from their lives. Also heaps of puzzles, games about missionaries and the story and coloring pages. You can also watch a quick review of the DVD here.
Another brilliant resource for kids, also from the Christian History Institute is the Glimpses for Kids printable Bulletin:
In our post Se7en Resources: Christian Heroes for Kids… I mentioned "The Trailblazer Series" and "The Torchbearer Series" of books, which are easy chapter books and "The Christian Hero's Then and Now Series" for slightly older readers and adults. All of these series have the Jim Elliot story presented in a way that is easy for kids to read.
The GiveAway works in the usual way, comment on this post before the end of this coming Friday, 7 August 2009, and I will draw and publish the winner next week on Sunday – I won't respond to your comments as I do on our other posts because I don't want to be included in our own giveaway!!! Good luck and get commenting!
And yes we post our giveaways all over the world!!!