Time for another Sunday Snippet and its another Top Tips Book from Scripture Union. As usual I have to thank Christian Book Discounters who kindly supplied the book for this GiveAway…

Here's the book: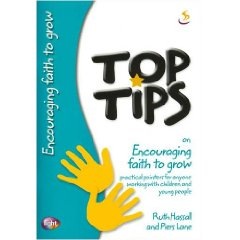 I love this series. The books are short, well thought out and full of practical tips. It is a series that deals with any number of aspects of ministry: Ministry to kids, teens, families and so on, all in a nutshell.
Really you can sit and read this booklet in about half an hour and you will be equipped to encourage your kids, and kids that you have contact with, in how to grow in their faith. This book is aimed specifically at anyone working with young folk at church, specifically children's workers. As a mother person I found this book a great read.
The first section reminds us of what the Bible says about passing on faith – from generation to generation. Faith is not something that can be taught in a classroom but rather through life and living. In the next chapter three basic factors: playing, learning and exploring are described as our responses to the world around us, and really how to engage kids in these areas. The final chapter is packed with practical ways to grow your child's faith, as well as children you may have contact with in your Sunday School class or church, in a whole heap of scenarios. You can have a look at sample pages from this book over here.
Really if you can get your hands on any of the Top Tips series, take the time to read them!!! And I am giving this one away in the usual way:
Comment before the end of this coming Friday, 27 February 2010, and we will draw and publish the winner next week on Sunday! – I won't respond to your comments as I do on our other posts because I don't want to be included in our own giveaway.
Our GiveAway Books are open to everyone: If you have won a GiveAway before never fear – enter away. If you live on the far side of the world – enter away. Postage takes forever from here but eventually it should get to you!
Good luck and get commenting!
P.S. If you did something fun with your kids or made a great link list then pop over and link it up to our Fabulous Friday Fun.