So it is Wednesday and I usually post a party post… and it is the second week in September so I have to, have to, have to mention Roald Dahl's birthday on the 13th of September. So I thought I would leave you with some ideas the reason I am doing this post a little early is to give you a couple of days to prepare for a great Roald Dahl Day.
We absolutely love Roald Dahl's books for children. I couldn't possibly list our favorite or favorites – he wrote so many… A great resource that we did buy was an audio collection of all children's stories and this has been a life-saver for me!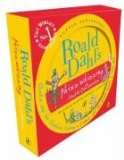 A year or two ago we had a Roald Dahl party – for the Roald Dahl fanatic in our house and this is how it went:
Firstly we did everything as wackily as we could…
We called it a "Sundae Party on Wednesday" and did everything backwards. And don't forget to wear yellow, which was Dahl's favorite color.
We sent out thank-you notes as invitations… there is an image page on the Roald Dahl website that you can use to make invitations. Images like these:



We served Sundaes naturally (!), this is a very easy party and kids love concocting… we had two flavors of ice-cream, and a whole lot of toppings. Chocolate sauce, Toffee Sauce, all kinds of berries, small sweeties and we let them go to it. If you want more ideas about sundaes then head over to Family Fun (of course), for recipes and toppings.
We had a Giant Peach Pinata and covered it in bug stickers…
And a Big Friendly Giant – BFG – cake…
And if you can't face an ice-cream cake there is always the Bruce Bogtrotter Chocolate Cake.
There are other Roald Dahl Recipes here. These recipes are all from: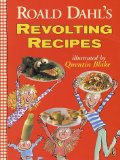 As a break from all the feasting we made dream jars, from the BFG. We used glass jars: filled them with two thirds water and a dollop of vegetable oil, and a handful of salt… thats the functional part. Then we added food coloring and all sorts of different glitters… that's the artistic element. These are mini-lava lamps your kids can make – fun and easy science in action. For full directions and a scientific explanation have a look here, at Family Fun.
We ended the party with hors d'oeuvre's: a dash of caviar and bacon on crackers. Caviar because Roald Dahl loved it and bacon because he loved the smell of bacon cooking.
And finally sent invitations as thank you letters.
There are heaps of activities available on the Roald Dahl Website. Our favorites are the Buzzwangling Bunting and anything by Jane Bull is fabulous, we loved making her Roly Poly Birds.
The quizzes and factoids on the activity pages are so worth reading if you are a Dahl fan – you will learn all sorts of things about this interesting man. Not to mention the Roald Dahl Day Challenge and associated Certificate.
They have a great set of bright, fun printable pages, badges and stickers and so on, to help get you going with your celebration.
And if these activities weren't enough for you then Activity Village has heaps of Roald Dahl things to do and Roald Dahl Day Goodies.

Party on…