This is the first in this weeks special from Owl Books,  and if you would like to read an interview with the author then this is the post to read.
This is the first book I ever published, I was six at the time. I did marble painting with green paint for the background and glued plastic frogs and snakes and ants onto it. I also glued on pressed autumn leaves for trees and metal cheetah charms. The flowers were made from plasticine and the monkeys were made from pipe cleaners.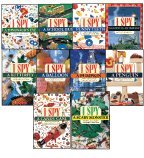 I wanted it to be like an EYE SPY book, so I hid some things on every page.
That's it, you can click on the pictures if you want to see them better.