So first week of summer holidays and we were out everyday – unheard of… insane. and let's just say the title of this post should be:
How to get exhausted in Se7en Steps…
I just spent the entire morning picking up the detritus of a life on the run. All that dashing means projects are done but not tidied, meals are eaten but not swept up from, books are read but not packed back. I could go on and on… but it is so boring- even for me!
In a nutshell:
On Sunday we stayed up very late for the Carol Service at Church… and went to look at the Christmas lights. 

And on Monday we went for an awesome outing… here is a sneaky peak… I will pop it in the Saturday Spot later… an entire day out in the sun and fun…

Tuesday we went for haircuts – don't die of excitement! I just love that I can see all those little ears again!
And Wednesday we went for an eye-check up… we were due for an appointment in January (last January). I kept putting it off and suddenly it is the end of the year – gasp. Totally good parenting and I sense a Home Truth about vision control in the house of se7en…
On Thursday the grandfather person came of older age and we had to go out for custard croissants to mark the occasion.

Friday we went to the library and got sixty-two fresh books… Followed by another late night: a bring and share farewell supper with friends…

And today is I hope a chill at home day with some friends coming over for pizza and a swim later, not that I will swim even though it is blisteringly hot… Instead I will get back to things dear to my heart – like blogging.
So we have a book of the week: It is Up and Down Andes: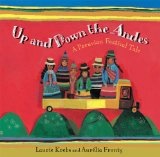 We totally love this book. We got it from The Picnic Basket, which is a brilliant book review blog for kids books – that I really, really, really don't want to share with you – but in my state of bleary-eyed, an outing a day week and numerous late nights, I will be nice… and definitely this book will feature on our Tuesday art Task.
And if you like Up and Down the Andes then you will like: We're Sailing to Galapagos for all the same reasons. The rhythm and beat of this book make you quite literally feel like a day of sailing!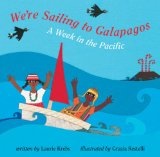 Otherwise we did our usual arting and crafting:
Hood #7 did a lot of surfing on the tea tray:
And exploring of remote and distant lands…
Hood #6: Joined the fashion ranks (like we always knew she would) and climbed into a burlap bag… the new nest!
And then discovered an escape route…
Hood #5: Became the resident peg-legged pirate.
Hood #4: Our resident gnome added a backpack to his outfit.
Hood #2 and #3: Did something on the sly – because there are no pictures to be found!
And Hood #1: Wanted to explore abseiling, on the rock, in a bit more depth. So he convinced Hood #5 that this was the new sport. Clearly he was very convincing.
Otherwise there was a major achievement:
Okay, let's see that again:
Up:
Mexican Wave:
Down:
That's it… Have a Great Weekend.