This is one of my all time favorite missionary books.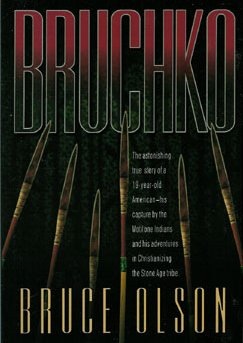 It is the autobiography of Bruce Olsen who was a missionary to the Molitone Indians in the Amazon Jungle. When he was 19 years old he left the comfort of his home and went to South America to find a way to reach these people. Through trial after trial he finally reaches them and manages to share the gospel with them. He has many close calls with death and his life is constantly under threat. He never takes the easy way out. He is totally committed to his calling.
One thing I liked about this book was that it wasn't a missionary story from centuries years ago. It is recent history and just a couple of years short of current! Most brilliant missionary books are from an era of missionaries in years gone by. Timing doesn't make a book less valid, it was just nice to read something current! The story is fast paced and gripping, un-put-downable. It was truly inspiring to read a book about a man who was called to serve, in the here and now, that didn't give up or take a single easy option.
I read this book for book club and was so excited about it that I wanted everyone to read it – my boys looked a bit doubtful about reading an "adult" book. Anyway then it arrived in the Grade 4 books from Sonlight and there was no looking back. There is so much truth in the saying that a good book can be read by any age and if it isn't suitable for a ten year old boy then it probably isn't that suitable!
Anyway, I read this with my older two boys they were riveted and I could see that the idea of being a missionary in a dark and remote place became a reality for them. It definitely planted the idea deeper into their minds as an opportunity to serve.
For me the challenge lay in exactly that, it is all very well to teach your children to serve the Lord but what if they are called to a deep dark dangerous place. I know you can be killed crossing the street at home. But if my kids grow up with this on their hearts then for myself, I think I will have quite a battle within my heart. Definitely, something I need to think about as my older guys probably have less time left at home than they have already spent here. Waaahhh, what a thought!!!
Anyway, seek this book out and give it a read – I really enjoyed it. Just seeing a young man rise over and above the challenge he was presented with… really amazing!