Before I even begin: I have to thank Christian Book Discounters who kindly supplied the book for this GiveAway…

According to Ecclesiastes 3:1-8 there is a season for everything. And since November has just begun it won't be long before everyone is going a little bit mad regarding the Christmas season. As a family, we have a tradition of spending only November preparing for Christmas. So that during December we won't have to go through any pre-Christmas frenzy, but rather we can enjoy Christmas and the associated fun, together as a family. Frankly if a gift hasn't been packaged and a card posted before December it doesn't get done around here, and amazingly enough life goes on!!!
It really is a time of year when we don't want to be distracted by errands and unnecessary shopping trips. Our goal is really to stress the importance of Christmas and spending time building relationships with friends and family rather than getting sucked into the commercial madness. I will be posting our Christmas plans and schedules over the next few weeks but I thought to get us going how about a Christmas GiveAway: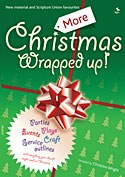 I am very excited about this book – it is aimed at folk who work with families and youth groups. It is packed with multi-age stories to act out, games, crafts, prayers, songs, quizzes in fact it is just packed with heaps of Christmas ideas. My favorite activity is the bauble hunt: a quiz/scavenger hunt game that our kids would just love to partake in!!! Really I think this is a great book that really anyone who works within a wide-spectrum group of people would find masses of ideas packed into this book.
How Does the GiveAway Work:
The GiveAway works in the usual way, comment before the end of this coming Friday, 7 November 2009, and I will draw and publish the winner next week on Sunday! – I won't respond to your comments as I do on our other posts because I don't want to be included in our own giveaway.
Our GiveAway Books are open to everyone: If you have won a GiveAway before never fear – enter away. If you live on the far side of the world – enter away. Postage takes forever from here but eventually it should get to you!
Good luck and get commenting!