So it is Sunday and time for another GiveAway. As usual I have to thank Christian Book Discounters who kindly supplied the book for this GiveAway. Click through and follow the link to their fabulous new website.

Scripture Union has a series of books called Top Tips, they are concise, Bible based books packed with tips on all sorts of topics relating to ministry: ministry with toddlers, kids, teens, adults; all aspects of Church life from leading Bible Study groups to making folk feel welcome. This GiveAway is "Top Tips on Growing Faith With Families."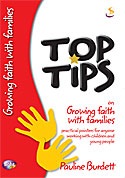 Talk about Dynamite comes in small packages… this book is packed and I mean packed with tips and practical ideas about anything and everything to do with family ministry. It is a little book, easy to read in a sitting, and I thought "well how much can this have in it" and then I read it. A must read for really practical ideas on how to welcome families into your group and activities to keep them involved and coming back for more.
It isn't just an ideas book, each idea is followed up with practical and do-able suggestions. It is all very well to say become involved in a child's life but this book makes suggestions on how to be involved. How to help dad's to be involved in their kids' church lives and mum's to get a break.
The book concludes with it's top ten tips and a list of resources: books, family programs, online resources and Bibe readings. I have to say this little book is a keeper and I am giving it to one of you!!!
The GiveAway works in the usual way, comment on this post before the end of this coming Friday, 18 December 2009, and I will draw and publish the winner next week on Sunday! – I won't respond to your comments as I do on our other posts because I don't want to be included in our own giveaway.
Our GiveAway Books are open to everyone: If you have won a GiveAway before never fear – enter away. If you live on the far side of the world – enter away. Postage takes forever from here but eventually it should get to you!
Good luck and get commenting!