It is that time of year when folk get all excited about reading plans and lets face it if you are going to make a resolution then most of us would say… I would love to read my Bible more consistently or stick to a quiet time schedule… but by January 11 we have fallen off our well-intentioned tracks and by February we don't even remember our intentions…
Now last year I published How to read the Bible in a Year with our kids… and I described how we read the Bible together at the table. But I wanted to raise the game a bit with my older guys and present a bit of a challenge to them and then I came across this: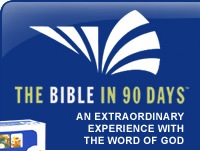 I am so excited about it, a reading program to read through the whole Bible in 90 days… This program has chunks of the Bible to read everyday just as you would read any other book. I love the idea of teaching my kids to read the Bible like a book and what a gift to them to realize that it is a book to read not just a big book full of unrelated bits and pieces. I had done Bible notes for nearly my entire life, read a verse or two and read a blessed thought and move on to the next day, but I had never seen the whole picture or the entire story of the Bible until I was at Varsity. I only really considered the book value of the Bible when I started reading it in its entirety. One of the best ever written books with intrigue, mystery, crime, family feuds – really an epic we should all try to read.
90 days is also achievable – it is not forever, you can see the end in sight and if you miss a day or two don't panic you can just keep on going. So we have printed our calendar schedule from here, it is up on the fridge and we are starting tomorrow.
We will read individually but I think it will help each of us to have a couple of us working on it, so that we can talk about what we have read and keep each other accountable. There is a fabulous website: The Bible in 90 Days, full of information and resources… I am sure I will dig deeper when I am looking for inspiration but right now I am keen to just get going with my guys and see if we can make it together…
Let us know what you think and if you want to join the challenge, all you need is to download the schedule and get going… If you are thinking about doing the challenge then please comment, we would love to have some company on our journey.