It is the middle of Winter and absolutely freezing, we didn't get out much this week. A mad dash to see the penguins, a couple of quick forts for lunch in the garden and catching the tepid sun on the steps but otherwise we are indoors. And everyone is beginning to plot and plan improvements to our keyhole garden – there is a frenzy of planning in fact!!!
Anyway I thought I would list se7en outdoor links to look at and ooh and aaahh over until our winter begins to thaw, ever so slightly into spring…

That's it… Just some linky fun for this weeks Outdoor Challenge: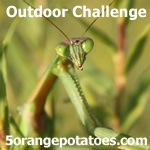 This Post is part of The Thirty Minute Mom's Challenge at Steady Mom.
And if you live in Cape Town then please enter this weeks massive GiveAway!!!