I have been wanting to make shadow puppets with my kids for ages but couldn't think of a good theme – one with intricate shapes and scope for a bit of madness and experimenting…
Well this morning I found them all reading:
and reading:
Aha!!! Wild Things…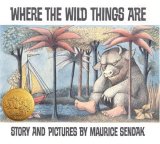 I found some great resources for Where the Wild Things Are activities at The Children's Discovery Museum of San Jose. They have projects that just sound fun all under the guise of Max's Exciting Expedition: Puzzle Trees; Land Boat; Wild Thing; Fit for Royalty and Fantastic Voyage. And just tonight in my pre-writing surf around the blogosphere I came across this fun project: at Skip-To-My-Lou and her Bloggy Book and Craft-a-Thon Day 7.
So here is our project:
Let's meet the players:
Some old card (I only had pink, not the most popular color round here! But it doesn't matter for shadow puppets – all you will see is the shadow);
Some markers – to get the project going;
Some colorful plastic sheets;
Some colorful tissue paper;
Some rafia – great for spikey hairdo's;
Some pipe-cleaners… always handy;
And we used a glue stick;
But quickly moved on to masking tape (its quicker and easier).
And let's play the game…
Project announced – and a mad marker frenzy ensued.
The marker frenzy was followed closely by a scary snipping snapping stampede.
And the scissor stampede was followed by a sticky stealthy sticking stomp. Don't worry about the aesthetics of the sticking or what the back looks like, remember its all about shadows.
It was quite hard for them to figure out the shadow aspect of this project, but I left them to discover it as we went along. I stuck some white sheets of paper to a window – so they could see how we were doing.
Turns out the brilliant backs of the wild things were quite fun.
And here are the fabulous fronts.
And here they are in all their shivery shadowy glory.
I recently wrote a post packed with Where The Wild Things Are Resources so if you came here looking for "Where the Wild Things Are" crafts and activities then take a look at it!!!
Have Fun!!!