Firstly it has to be said: I love Usborne Books – always have, always will – I was born loving them. All their books in the range of Little Books are quite literally worth dying for.
Well here comes a double bonus, you may have noticed a predilection towards cook books, specifically kids cook books on this site. Well here is a little kids cook book from Usborne Books – Oh! How heavenly.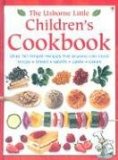 Here we go – a cook book for kids, with real food recipes in it, healthy meals that they love because they chose them and because they come from their very cute cook book!!! I have a feeling some of these recipes may not have stood the short person taste test… but considering their origin – not from me, but from the book! they were gobbled up with glee.
These are the recipes that we have conquered (get those tummies rumbling first thing on a Monday Morning).
Couscous Salad – yum;
Spanish Omelette – yum, yum;
Tomato Salsa – yum, yum, yum;
Vegetable Risotto – yum. yum, yum, yum;
Vegetable Crumble – yum, yum, yum, yum, yum;
One-Pot Chicken Casserole – (I use this recipe a lot, especially for visitors,when I need something a bit more than pizza);
Moving on…
Mini-Meringue Nests;
Raspberry Profiteroles (My kids can never resist these in any cook book!);
I left Hood #1 and Hood #2 alone with this book and they did a fine job, I was secretly thrilled that they didn't go straight for the desserts but they actually made meals.
Hood #1 produced a very fine Bacon and Onion Quiche:
Hood #2 managed a really good Creamy Chicken Curry:
And finally Hood #1 can never resist strawberry shortcake – and I mean never… he saw this photo and went the distance with the recipe from this book – it took a while, it was quite a lot of work (!) but with the goal clearly in sight he made it: