This book is one of our Christmas Traditions: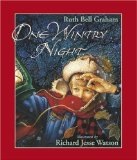 It is written by Ruth Bell Graham and illustrated by Richard jesse Watson.
On the 1st of December it gets popped onto the bedtime story pile and we read a couple of pages every night all the way until Christmas Eve when we finish it with a flourish.
This book tells the story of a boy, Zeb, who gets lost in the snow on a very wintry night. He seeks refuge at a nearby cabin where he is taken in by a gentle woman who tells him the Christmas Story over a period of days, as he waits for his badly sprained ankle to heal and the weather to clear. Only the Christmas Story is not just the Nativity it begins In the Beginning with the story of Creation and wanders through Noah, Israel and the Plagues, Samson, David and Goliath, the First Christmas and finally the Resurrection.
The great thing about the story is that because it is a story within a story a whole lot of details are explained to Zeb throughout the story that I my have failed to mention… very clever narration.
In a word the illustrations are captivating… they would drag even the most reluctant listener into the story. We don't have any reluctant listeners and all my kids are intrigued by the details! My kids love the pictures and spend hours examining them just in case they missed something important.
This book is a definite keeper and makes a fabulous gift.
Happy Reading.