Another hard week in Africa.
We had more guests:
We read some books:
In fact we read and read and read! – Which is perfect, all I remember from summer as a kid was reading and swimming and reading and swimming and repeat…
Our book of the week was: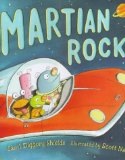 We rediscovered this favorite book for the umpteenth time. Every time we see it on the library shelf we have to take it out because we totally love it. The poem is giddy and galloping all the way through, dotting little bits of truth in between all the fun… The Martians hunt the whole Solar System and eventually find life at the South Pole … this surprise has led us through years of obsession with a certain type of bird only found at the South Pole:
We had a post party balloon event. Some were better at it than others!
We managed a trip to the beach…
And were tempted by the sprinklers in the park on the walk home from the beach…
Hood #1: Created an enormous universe and Hood #4 helped him conquer what ever needed conquering.
Hood #2: Proudly showed me his journal, he has managed to fill in something for everyday this year. I was so impressed, writing is definitely not his favorite activity. If you take a peak at our weather tree you may just guess… "No Rainfall in Africa Today." Talk about creative writing – not!
Otherwise he went for his annual eye check-up on Wednesday, so on Tuesday he cleverly googled: "electronic eye exam equipment" – or something like that. So sharp of him, he was totally equipped for the day ahead and knocked the eye-man's socks off with his exceptional knowledge of all things ocular.
Hood #3: Spent the entire week reading, what can I say, a girl after my own heart.
Hood #4: Spent the week knighting and rock climbing. Does this guy like dressing for the occasion or what?
Hood #5: Spent some time with his friend Pieter the Chef, and yes chocolate mousse was on the menu and yes I will certainly blog the dream on the Monday Munchies!
Hood #6: Continued life in the snipping zone, this kid has to grow up with a career that needs cutting and snipping all day long.
Hood #7: Discovered the stairs heading for the mountain…
Came of glorious age: Note to mother… break eggs into a cup one at a time before plonking into the cake mixture, so if you should get a yucky one you don't have to throw the whole mixture out. I know good cooks do this, but hay I am dashing here. Needless to say I had to whip up some lightening quick brownies to poke the candle into. No one complained, but the pretty pink cake didn't happen!!!
She got her first baby from the father person, a tambourine from the mother person, a brilliant book from one granny and some very popular ingredients from the other granny. She scored and has arrived firmly in the world of "ownership".
But more important than that: the girl walks – oh yes she does…
Hooray, lets celebrate!
That's it! Have a Great Week…
P.S. My technical manger – read the father person, has tweaked my comments and it should be a breeze to comment here in the future. Yay I would so love to hear from you all!