Carrying on with our book theme lately and the fact that it is so hot we can barely drag ourselves off the cold tiles in our dressing room, where everyone has been lying on the floor reading books all week. We need a really quick and simple craft. This is what we are aiming for:
I discovered these bookplates in the great drawer a day project we just survived. When I was a kid I got these book plates as a gift. I was never that mad for Garfield but I loved having something to pop in a book and name my claim. They were so special to me, in fact, that I rarely used them and still have more than a couple that my kids would love to claim.
Now by far the best place on the web for bookplates is at My Home Library. There are small, medium and large for different size books. There are black and white or color. But those aren't the reasons that make these book plates great. The great thing is that they are bookplates with illustrations by some of the all time great kids illustrators: think Anita Jeram, Debi Gliori, Quentin Blake… do I need to say more!
But knowing my kids I knew they would want to make their own, so I quickly drew them an outline and printed off a couple.
And we got these really cool crayons, pastels, watercolors with our school books that we have all been dying to try…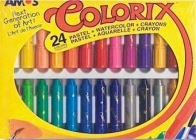 First they drew their picture using a sharpie (waterproof marker). A picture they could color in using their new crayons. I used a sharpie in case they wanted to use the watercolor feature and then their pictures wouldn't run.
Then they got stuck into these lovely glossy yummy crayons. They are smooth and fabulous to draw with – nobody wanted to stop drawing! And we never got to the watercolor part because we had to revel an entire afternoon with them as they were.
And here we go a bunch of bookplates…
Anyway once they were done I printed four on a page – postcard size and we were done. I reckon these would make a great gift to an odd aunt. And what about some blank ones, markers and a good book as a great gift to a short friend! Oh yes this could really work.
There you are – I said short and sweet, since we are dying of heat and headed for the pool!