You can see we are having a few more rainy days…
And here is a secret about Cape Town that you may not know, this is the very best time of year weather wise. No wind, just warm days (not blistering heat) interspersed with cold days to snuggle. And here is the secret of living in a seaside town… people think that summer is over, they are right the nights are cold and the mornings freezing, but hardly anyone goes to the beach. We have a glorious empty beach this time of year… and that is the joy of living 2 minutes from a long sandy beach and enduring long summers of tourism jam!
We had the week off school, our first break for the year… and did I have plans! They all came to naught. Well let me show you what actually happened… On the first day of school break:
Three non-scholars made it to breakfast… everyone else was in a mad frenzy of Lego, that I had banished for the last four weeks of school because it was causing severe distractions! By lunchtime there were traces of passing hunger… and a lot of projects had been planned!
Otherwise we did a lot of scampering on the beach…
And I mean a lot…
Someone had forgotten about ALL that sand and just when she had recovered from the shock she discovered ALL that water and frankly it could make a girl cry!!! She recovered herself and got in the swing of it really quickly!
We went hiking…
And had a candle-lit dinner…
Wild games in the inside-outside room… and I can't believe that Hood #7 knows all the moves!!!
I thought I would give you a list of the wildlife we came across this past week… I am so inspired by By Sun and Candlelight and her beautiful wildlife/animal photographs that I decided to photograph the wild-life we encountered this past week… and when you see our list you will know why you very rarely see wildlife on our blog – these creatures are worse than kids: never cross the picture frame and never stop wriggling. So we have precisely one wildlife photograph available to you. Here is our list:
another snake in the bathroom
a squirrel hit our nature spot and devoured it's way through the acorn collection
a couple of sugar birds in our nest
and other little bird type things
not to mention our butcher bird that we have been watching since it was a baby and now manages to catch it's own morsels.
some baboons on the roadside
plenty of sea-gulls
a seal frolicking in the waves
lots of fish in the dam, where we hiked
a guineafowl
and when the weather gets damp and your kitchen wall is made out of rock built into the mountain side you get these creeping in – euch! But they do keep still for the camera.
Otherwise we made kaleidoscopes… and I loved these as much as the kids did!
And we had a muffin frenzy:
That's surely enough about all of us, lets look at the hoods:
Hood #1: Wrote a couple of books… cartoons are the flavor of the week.
Hood #2: Made another guitar out of a box… hmmm he has been doing this every free chance for years and years!!!
He also started a toothpaste company after reading this book for the bazillionth time: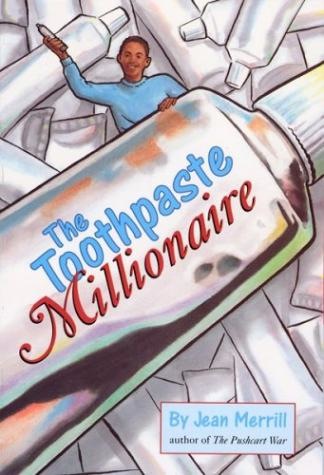 It was a short-lived career and his plans to make millions of millions were dashed by the flavor. He quickly moved on to the Hobbit.
Hood #3: Has been baking up a storm for our "Pasta for Lesotho Club." Our members have increased and it is going really well with most of the hoods mastering banana bread.
Hood #4: Was left to make lunch more than once… everyone else was far too busy with Lego, but hunger was calling!
Hood #5: Became my new chief sweep, the point is a celebrity chef needs a clean environment and he has claimed the kitchen as his.
And he concocted and zested as usual!
Hood #6: Well we had a great batch of tomatoes in our vegetable box this past week and they kept disappearing at an alarming rate! We have a tomato thief!
Hood #7: Continues to Mexican Wave us through every meal… and if you give a girl a cookie she can survive ardeous hikes, sandy beaches, wet wet oceans and such like… It is quite amazing what a cookie can do when you are at the end of your tether. Note to the mother person: I should try this myself!
That's it… I could say we are having another week off school and I will carry over the plans from this week and actually have a science week. Then again I might just aim to make sure that 140 finger and toe nails get cut and who knows how many teeth get brushed and serve 189 meals, read 49 bed-time stories… I won't aim too high and I might just make it!
That's it, have a great weekend and fabulous mother's day tomorrow!