So the weather is up and down, glorious and sunny or stormy and wild, not to mention everything in between!
We did all the things I planned to do last week and never got round too. We had a bit of a tidy up and clean up… I couldn't face a huge clean out but we sifted through everything as we came across them. I love reading the Organizing Junkie and this post: Throw out fifty things now… inspired me. Every morning I did a surgical strike before anyone was too conscious, and spent about fifteen minutes getting stuff to the donate pile. This was so easy and went by unnoticed by the other residents. Everything is packed and ready to donate. I think I will aim to do this every week this month and see if anyone notices! Out went:
One bag of kids clothes.
One bag of adult clothes.
One bag of little plastic nik-nak kind of toys that no-one can be bothered to put away!
One broken lamp beyond repair.
One broken blender that Hood #2 hasn't got round to dismantling yet!
Three plastic kiddie chairs that are beyond their prime.
A bazillion art works that were jammed around the house during the last term of school.
A couple of things out of the mending bag that just weren't getting mended!
A few really grimey little soft toys that weren't loved.
A scanner that we never use that was taking up prime desk space.
We also managed our science week and caught up with all our experiments – I learnt a lot and it was great fun – everyone digging through their science boxes looking for little treasures. Science was never this much fun when I was at school, especially since we started every single science class with a compulsory quiz and dire punishment if you should miss your question (I still can't look at a periodic table). The stress of the start meant I never heard the finish… So I am catching up and learning about magnets and cohesion, Hood #3 is doing the body and Hood 4 was doing a whole lot of fun planty things!
Those who were not actually "sciencing" were frantically busy with some sort of massive play event!
The girls went out with the father person and the guys stayed home and made massive jam sandwiches and soda floats.
And then they waited for the return of the travelers… my kids hate to be apart!!!
We made crunchie bars and added them to our list of recipes on the Pasta for Lesotho Club…
We went on a rose hunt to Chart Farm – the perfect spot to visit on a cold wild blustery afternoon the week after Mother's Day, not another person insight and a great afternoon for hide-and seek.
Not to mention a bucket of roses and a beautiful smelling house!
We made it to the library!!!
And read and read and read!
Some of us have to read under the bench – have to!
And our book of the week will have to be: Everyone felt very sorry for the dirt boy because he was so far from home and he got so sad and stinky! People have been taking that shower a lot more seriously around here!!!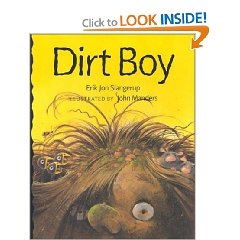 Hood #1: Taught his eager brother how to count tree rings… and for the record this tree had "sixty-seventeen" rings.
Hood #2: Shared an extremely funny joke that went on for hours – he's good at that!!!
Hood #3: Spot the Princess and the Pea in action!
Hood #4: Opened a store…
Hood #5: Spent hours telling me just how to run a restaurant. Every gory detail, right down to what to do with the left overs: "Feed them to your children." Of course!
Hood #6: Loves a project! Especially a beastly one!!!
Hood #7: Has discovered hide-and-seek with a vengeance and is forever dashing about under foot (!) to find somewhere to hide…
Only to be found – HA!
One look at this on a Friday night and I am guessing it was a good week:
You all have a great weekend!