Last week our "Sunday Snippet: The Facts of Life" leads straight into this weeks Giveaway. This book is by Stuart Burgess and is called In God's Image. It describes the amazing uniqueness of the human body and the origins of man: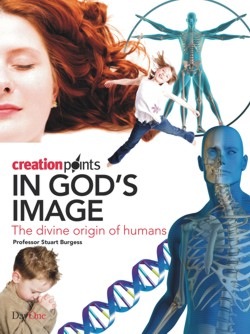 The booklet has a large A4 format and is full of excellent photographs, enticing you to read more! It is written in two parts: Part One is all about the unique design of the human body and the second part provides a summary of the scientific evidence regarding the origins of mankind.
This book is packed with the most incredible snippets and facts – great stuff to read with your kids. For example, in the first section, I love the part on facial expressions: Did you know we have about ten thousand different facial expressions and we uniquely have the whites of our eyes clearly visible? Also, we have unique language abilities. Did you know that the average man speaks 4000 words a day and the average woman speaks 8000? In the second section the scientific evidence that is so often presented to convince us that we are descended from apes is provided. The author presents the scientific evidence and then shows that the evidence makes a couple of questionable deductions and is at best flimsy.
It is not often that you find a book on the origin and uniqueness of man written from a christian perspective that is a quick read and easy enough for an older kid to read and easily digest. The author Stuart Burgess has gathered his facts and presented them in a clear and logical way, no emotional arguments here – just the facts, plain and simple. I think it's a good read!
As usual I have to thank Christian Book Discounters who kindly supplied the book for this GiveAway…

And the Book is published by Day One Publishers…

The GiveAway works in the usual way, comment on this post before the end of this coming Friday, 21 August 2009, and I will draw and publish the winner next week on Sunday. I won't respond to your comments as I do on our other posts because I don't want to be included in our own giveaway!!! Good luck and get commenting!
And yes, for those of you who are wondering, we do post our giveaways all over the world!!!