For our Saturday Spot I was going to stick with my South African theme this week, but time got away… So I was going to blog on the local Garden of Remembrance, which is always eventful on Remembrance Day – but it is pouring with rain and I am not venturing forth for photographs…in the deluging rain. So I am blogging a gadget instead:
The father person is a technical guy, an early adopter of any new gadgets… and he has had his eye on THE KINDLE, that has just gone international, for quite a while. I am more of the "why follow the crowd", "do we need it" kind of person – not to mention they aren't giving them away for free.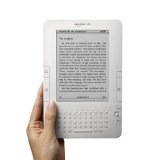 After weeks of should we/shouldn't we, can we/can't we… and me firmly saying:"I don't think so…"Until I had the epiphany that he could buy it through se7en's amazon store and we would earn some points in the grand scheme of affiliation! With that noble cause in mind I mentioned that "He could go right ahead whenever he wished…"
After a week of watching every tracking comment 24-7 it finally didn't arrive… just a little email to say "parcel refused" – huh? Needless to say late Friday afternoon is not a good time to send a courier service to search the little streets of a neighborhood that are not even in the map book. So I had se7en lingering look-outs playing round the gate for hours – just in case it arrived. It would be tricky – that late on a Friday, to actually ring the contact number… rather just say "parcel refused." I don't think so! So after a myriad of calls – it cost nearly the same to ship the jolly gadget as it did to buy it and I was not letting it return to Amazon. Not to mention the grumpy weekend we would have if someone didn't receive the promised parcel. After "continuous and gentle" enquiry our parcel arrived… or should I say: "The Kindle Came on little Courier Feet"
The father person was gracious enough to let me un-box it, and then he was shocked to discover some school books lurking there… School books to supplement history and I can highly recommend them… Back to the point, hidden under some school books lurked a useful looking box:
And it claimed to have a Kindle within:
And amidst the packaging – it did!!! Now this may not surprise you but it did us, when you live at the foot of Africa all things that a package claims to be aren't always exactly what you are after… but this one was.
So here it is:
And I still couldn't get too excited about it. No not at all excited! Just another thing to lie around, another potential breakable with every kidlet desperate to see how it works. Also it doesn't play games – I like games, I love games – I couldn't exist without Tetris even though I have deleted Tetris from every gadget of mine – it is nice to know it is still out there.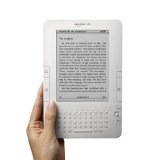 So what is the big deal you might ask… Well you have this little book-sized piece of metal… and it has the potential to be packed with loads and loads of books and even journals (that get updated as they publish)!!! LOADS I say… it is like carrying a library in your hand. And the minimalist in me says: YAY, I don't have to find space on the book case. It is perfect for novels that you don't actually want taking up book case space. Just hit the order button and the entire book downloads within a minute.You can leave bookmarks wherever you need to, make little notes, jump from book to book. It is great for traveling, you don't have to carry the library with you to go out the door or to sit in the car, while waiting for musicians, or even sitting on the couch for hours of your life nursing a little creature… this little creature (just had to slot a pic in!!!).
So I loaded up Jane Eyre, because all good literature begins with Jane Eyre, in fact all the very best literature begins and ends with Jane Eyre… and then I was stumped with the whole of Amazon at my fingertips.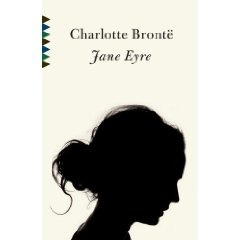 So as I was saying, I have the whole of Amazon at my fingertips… and I couldn't think of what to buy. I browsed and browsed, I surfed and surfed and nearly drove the father person insane with my indecision.
There was only one journal that appealed – they are very manly business, news and finance type journals, except this one looked quite fun: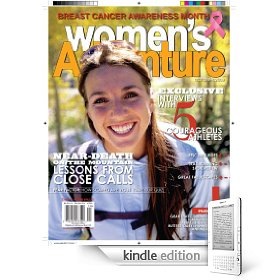 Finally after heaps of deliberation I chose the Grave Digger's Daughter – it is grueling but I am enjoying it, the words are are so well chosen that I have to reread little bits just to enjoy them…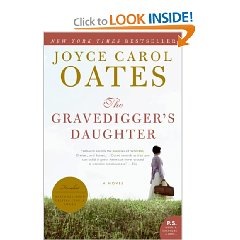 So now I can't put it down, I am flicking between books and reading here and there… and this is where you all come in to the story: What are you all reading right now? What books are the latest and greatest? If you were treated with a Kindle what would you download? Tell me, tell me – please!!! I have no idea where to start but I know I have to keep it loaded with heaps to read or the father person might think I am not using it and claim it for himself.
Comment away!!!
This Post is part of The Thirty Minute Mom's Challenge at Steady Mom.