This week was all about time…
Time for smelling the roses:
Time for trees:
Time for picnics:
Time for running about:
Time for somersaults:
Time for cloud spotting:
Time for leaf counting:
Time for crafting:
Time for gaming:
Time for pondering:
Time for dress-up:
Time for movies:
Time for gifts:
Time for construction:
Time for biking:
Time for books:
Time for feasting:
Time for gridlock: (It's that time of year where we can't easily leave home and it wont get better until after New Year… the price you pay for living at the beach – one week a year you have to stay home.)
Time for Naps…
Our book of the week has to be: Not just a cook book, there is lots to read and learn about…recipes to try and projects to ponder… Love it!
Here is the Hood's week:
Hood #1: Kept a pile of secrets.
Hood #2: Played football.
Hood #3: Revealed why her pillow was so uncomfortable an d why she hadn't been sleeping so well…
Hood #4: Waited for his tooth to come out and tried everything except just pulling it out…
Hood #5: Wished he owned a mezzaluna.
Hood #6: Discovered some surprises…
Hood #7: Loved making angels.
Hood #8: Had his first Christmas…
Can you tell we are on holiday!!! Lot's of Family Fun…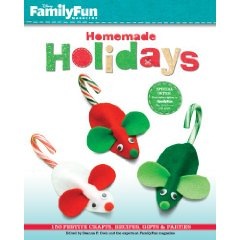 If you are still reading! And would like a chance to win this Family Fun Book and celebrate eighteen months worth of blogging, more than 650 posts, more than 3000 comments with us, then tell us what Family Fun you have been having this week… The GiveAway works in the usual way, comment before the end of this coming Friday, 1 January 2010, and we will draw and publish the winner next weekend! – I won't respond to your comments as I do on our other posts because I don't want to be included in our own giveaway.
Our GiveAway Books are open to everyone: If you have won a GiveAway before never fear – enter away. If you live on the far side of the world – enter away. Postage takes forever from here but eventually it should get to you!
Good luck and happy commenting!