Today was the Weekend of the Argus Cycle Tour and we couldn't get out of town to get to church this morning – so we took all the kids to church this evening as a late night treat. They love church and are devastated to miss it!!! Now I know I am supposed to post a GiveAway winner… but I just tumbled the last of my kids into bed and I remembered "ooops" I need to post a winner… needless to say you will have to wait until tomorrow to know if you are the winner to last weeks Sunday Snippet… Sorry folks!!!
Meanwhile this week I have been reading, Happy Helms with interest, she has written a great series on protecting our kids from abuse:
And while we are talking about it: I really believe all women should read this book: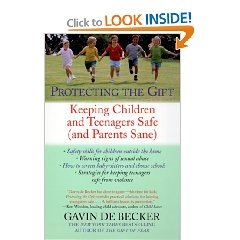 It won't provide you with a lot of comfort in the sense that it will say: "This crime won't happen to you or your children" but it will provide you with heaps of insight: who abusers really are – while he doesn't say forget about "stranger danger" the abuser is generally someone you know, a well loved friend or a close relative. Also listen to your heart if you get a creepy feeling then listen to it. Really this book is packed with plenty of ideas of how to teach your kids to cope in a world that isn't nearly as child friendly as we would like it to be.
Abuse of kids is one of the most common of all crimes and yet seems to be the least talked about. It is one of the topics that touches everybody in some manner or form. Statistically one in three girls and one in five boys are abused. In South Africa the statistics are so much higher with one in two girls having been abused… You cannot meet with a couple of friends and not be close to someone who has been sexually abused.
But you may think you haven't been touched by it – because nobody talks about it. Really it is pervasive in every culture, every socio-economic group – it really is. This is one thing that you cannot pretend is not in your neighborhood, your kids school, your church… it really is everywhere!!! And a lot of your adult friends are coping with the pain and carrying an enormous burden on their hearts, from their own childhood, as they travel through day to day life.
In fact a couple of years ago I was at a Bible Study planning meeting and we were brainstorming topics for the upcoming term, looking at topics that would touch all the moms in some way: submission (again); discipline, being a better wife and I said why don't we talk about abuse? Well you could have heard the thunk as the meeting stopped…, followed by the dash for tea. Really nobody wants to talk about it – like it doesn't really happen. Surely there must be a Christian response to this and something we can do to encourage women who are survivors of childhood abuse. Surely women who lead bible studies and raise children and encourage friends about homeschooling, parenting and toilet training would want to get this taboo topic out in the air.
Ever since the thunk moment I have been reading any number of books on the topic and they all tend to start off listing all the hideous scenarios that folk have been through. Honestly these anecdotes are often so distressing that I never get past them. If only these authors knew that you don't have to describe the worst case scenario or the most toxic event to understand that there is a vast ocean of folk in serious pain. But I am reading: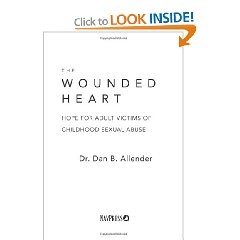 And so far so good. Really this book is amazing I completely understood the typical responses to abuse within the church: "Where he describes how a woman was told by her pastor that many other people have suffered far worse things than abuse by their father and she needed to stop feeling sorry for herself; Or the woman who was told not to take the perpetrator to court, apparently it is acceptable to seek legal help for a damaged car but when it is a damaged soul one must back down rather than be vengeful." I like that this book doesn't spend pages and pages describing hideous crimes but gets to the heart of the issue. I feel far better equipped to talk about this topic to hurting friends now than ever before. I cannot provide a solution, I cannot heal their hearts but I can provide an ear and I can pray for their hurting hearts in an intelligent way.
I really think as long as nobody is talking about it, we are protecting the perpetrators and providing no support to the victims.