I have mentioned before that I review books for BookSneeze and here is the latest: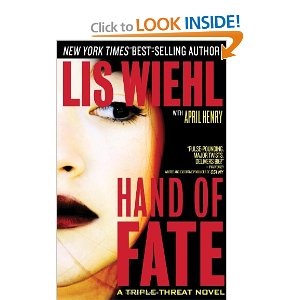 This is definitely a holiday book, a quick and easy read. Long enough to keep you busy for a weekend but not too much to tax the brain!!! You can read this book in a sitting or two. It is not too complicated and it will not leave you floundering around trying to remember who is who and what is what. It is just a little tame to be a mainstream novel. And I think of some of the ladies in my previous Christian book club would think parts of it were a little bit risky. So it falls into middle ground.
The story opens with a murder, by means of a poisonous gas package, of a radio-presenter called Jim Fate. He is not well-liked and there are suspects at every turn. We meander through the lives of three women, "The Triple Threat Club," as we try to get to the bottom of the crime. The three women are an FBI Agent; TV Crime Presenter, and Lawyer. The author tries to raise awareness of issues that arise in the lives of these women, for example the one women suffers an addiction to sleeping pills. What kept me reading were the amazing twists and turns as we followed the path to the killer – and you will just never guess who it is!!!
So all in all I would rate this book as average. Grab it from the library – it's worth a quick weekend read. But I don't think it's a keeper.
Thanks BookSneeze for a chance to review another book. I look forward to reviewing more in the future.
If you would like to enter this weeks GiveAway then feel free to follow the link and comment.