This book was our book of the week last week and I said I would have to post about it!!! You know when you have a book out of the library and you keep it out for so long that it becomes part of the furniture… Well I have this problem with Mick Manning and Brita Granstrom… We don't own any of their fantastic books but I love and adore them!!! Anyway we have had  The Seaside Scientist
out of the library for so long that I think it may have become part of the book case…
This book is so fun, each double page spread tackles a fresh topic, a couple of easy reading paragraphs and two or three activities per page and we simply couldn't resist them!!! There was nothing my kids couldn't do on their own, which is always a plus in my mind!!! And nothing that we actually had to go to the beach for… I know we live less than two minutes away but we are focusing on the last week or two of school and we just were so lucky to have such a classy book to inspire us that a mid-year break and endless trips to the beach is well within reach!!!
Here we go se7en crafty things we did:
A Wild Wave Painting: This was just crayons, a white candle and food coloring painted over and how often do we forget how simple things are so effective!!!

A Wind Strength Tester: A collection of different weight items tide to a strong pole. We had ribbons and fabric, sea-shells and cones and a couple of bells collected from previous projects.

A Wild Sea Bird:
First the Great Gliding Wings: Fold over some cereal boxes and we just used masking tape along the open edge to tape them closed and cut out some feathers and painted…
And the Head with the Fish-Catching Beak: Used a shopping bag turned inside out, cut out the eyes and glued a "strong" beak on to it.

Then our bird was ready to fly.
A Lighthouse in a Crisp Can: Add some white paper to a crisp can, and then add some red stripes. Pop a torch into the can and we used a glass on top, but you could use anything that fits.
A Test to See the Effects of an Oil Slick on Birdlife: Add some oil to a bowl of water and dip a feather into it. Then add a dash of washing up liquid. Your feather will never be the same again.
That's it!!! A nice mixture of creative, crafty and scientific exploring… this book got us outdoors even if we didn't get to the beach… and there are heaps more projects with mermaids and kelp and beach faces… just waiting for us to get there!!! Can't wait!!!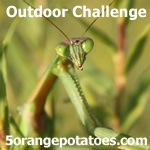 This Post is part of The Thirty Minute Mom's Challenge at Steady Mom.
And if you haven't entered this weeks GiveAway yet then follow the link and leave a comment!!!