This week we are going to be having all sorts of tea party fun on our blog: Recipes, Games, Crafts and Fun!!! We would love to invite you join us!!!
Cancer is a disease that effects millions of people world wide. I think all of us can say that we have been affected by cancer, if not ourselves then close friends and family have suffered. Now we can make a difference by hosting a tea-party and raising funds!!! The Cancer Association of South Africa (CANSA) is hosting tea-parties all over the country until the end of October. Folk attending the tea parties are making donations to the CANSA fund and the money will be used in projects involving prevention, care and support and research.
How it works: We will be counting every cup of tea we drink in our home this week… and since we aren't huge tea drinkers we will be counting coffee as well… and let me just say we are BIG coffee drinkers!!! For every cup of coffee we will pop a flower on our tea pot and donate a Two Rand to the fund. We will be inviting friends over to join us for tea and coffee and their cups of tea will count – onto and into the pot!!! We would love if you join us!!!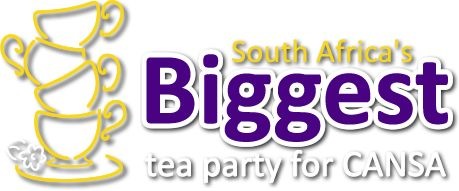 In fact we are calling out for you to count your cups of tea and coffee as well and to donate accordingly. We are aiming to make R777.00 South African Rands by Sunday. It doesn't matter if you are paying in Dollars, Rands, Cents or Pounds… Just pop over to our fund raising page and you can donate away and help us to fill up our pot. If you want to see what your donation will do, and why wouldn't you, then follow this link!!!
If you would like to join us in our tea party then leave a comment and tell us so!!! If you want to have a tea party , even with your teddy bears!!! and send us a photo we would love that… If you do have a tea party then let me know and I will do a link up at the end of the week… And if you don't want to count your cuppa's and just want to make a donation we won't mind!!! And if you are a follower overseas your $7.00 will go a long way to achieving our goal of R777.00 by Sunday. The Whole Party ends on Sunday!!!
If you would like to make a donation towards our tea party then please…Click on the tea pot to Donate…
Go on… if you rush over now you could be the first to donate!!!
I would just like to say that the money does not in any way come to us – it goes straight to the CANSA fund bank account and we will in no way make any money from the event. Also please ignore the 92 days to go button on our donate page – I have no idea how to change it… we only have until Sunday 31 October 2010.