I thought that while I was getting my month of missionary posts together that you may well like a GiveAway… just while you are waiting!!! And while I have read these books before I thought I would just page through them to familiarize myself… WELL un put down able… and there went the night, no blogging because I got caught up reading them from cover to cover!!! So here you go: This weeks GiveAway is two books in one…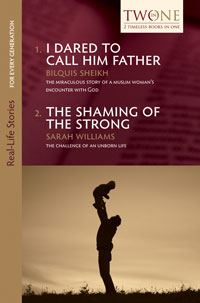 If you haven't read these books they are so great. Like most true stories, nobody could make them up – they are that good!!! Seriously once you start you had better be settled in for the duration because you won't be moving till you have finished!!!
I Dared to Call Him Father, is the story of Bilquis Sheikh, who was a woman from a wealthy home living in Pakistan… in a place where Bibles were practically unheard of!!! She became curious about this man Jesus that she read about as a prophet in her Koran… and so begins her incredible journey to Christianity. The most amazing read and the most amazing things happen in this book. Her life is quite literally turned upside down and inside out. It simply makes you realize that God works in far off lands and in our hearts despite the world around us and the circumstances we my find ourselves in. I loved this book.
The Shaming of the Strong: Is the story of Cerian Williams and her life with her incredible family… Her mum, Sarah went for a routine twenty week scan when she was pregnant with her. And while she was feeling the joy of meeting this little person inside of her she was met with the most devastating news that her baby suffered from a skeletal condition that was indeed fatal. They were strongly advised to terminate the pregnancy… it was expected. They did not… this is the tale of their family getting to know their baby and finding the strength to make her part of their family for such a very short time. Another incredible journey… you will most likely sob. For Cerian, her mom and dad and her brave little sisters…
As usual I have to thank CBD, our GiveAway book suppliers for another great book.

If you would like to win this fabulous book then go ahead and enter our GiveAway. The GiveAway works in the usual way, comment before the end of this coming Sunday, 13 February 2011, and we will draw and publish the winner next week! – I won't respond to your comments as I do on our other posts because I don't want to be included in our own giveaway.
Our GiveAway Books are open to everyone: If you have won a GiveAway before never fear – enter away. If you live on the far side of the world – enter away. Postage takes forever from here but eventually it should get to you! Good luck and get commenting!!!