The sketchbook project is just our best art project that we do as a family each year. This page provides a little tour of the sketchbooks we have done so far… and we would love you to step inside and take a look at the stories we have to tell!!!


A Tour of Previous Sketchbooks:
This book is packed with places we have been and places we would love to go… top tips for traveling with kids, what to pack and where to go… it's also just a bit of fun…
Click on the images to step inside a book.
I was thinking of a Companion Book as a little book full of things you need to know and packed with little reminders… things you don't want to forget. A simple cover belies a notebook packed with tips and ideas… things every family wants to remember, every family needs to know… fun stuff, serious stuff… things to collect and pop into your year book, things to do in and out of the seasons. Gift ideas, craft ideas, game ideas, travel ideas… Packed!!! Click on the cover and step right in…
Click on the images to step inside a book.
This little book describes a day in the life of a family with se7en + 1 kids… maybe not all the laundry and dirty dishes you might think!!! You really do want to click on the cover and step inside and see what we get up to!!!
Click on the images to step inside a book.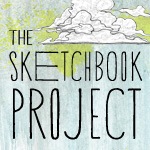 Thanks to the SketchBook Project… for such a fun time!!!