My kids just like arty crafty books and I leave tons of them lying around to inspire them. Mind you, I never promise to do any of the projects with them. I also never stop them if they are motivated to get going with something, the tools are readily available to them. In fact, I even prefer it if they can get round to a project in the early hours of the pre-dawn just so that I don't have to be part of the ensuing chaos of se7en crazy creators!
Anyway who can resist a book from Dorling Kindersley by Jane Bull,  (this link takes you straight to her mini-site with a couple of examples of wonderful crafty things from her books). What I love most about her projects is: They really are kid friendly. Kids can be inspired and then do most of the projects without too much help – wonderful!!! We got this project from her Crafty Art Book: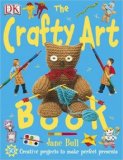 The one project that grabbed all my kids was the soft dolly project. She had a bunch of examples of soft rag dolls: pirates; a ghost; a snowman; a cat and a girly girl… Well all my kids came to me and asked to make these so we had a couple of friends over and off we went.
I cut out the fabric according to the template using plain white cotton fabric. I had pre-washed the fabric to make sure the color in the markers and fabric crayons took to the fabric.
I left them to draw with fabric markers, fabric crayons and puff paints. Decorating to their hearts content…
Then we put them out to dry in a sunny spot…
And I couldn't resist hanging them all on a line to finish drying, they just looked so cute flapping there!
Then in the dead of night, when all mothers lurch or creep around, depending on their level of fatigue, I ironed the shapes to fix the dye to the fabric.
Next, for each rag doll, place the two pieces of fabric right side together… then I whizzed round the edges with a sewing machine. Don't forget to leave a small 5cm-ish gap (we all make mistakes in the dead of night!!!). Turn them right way round and put some stuffing through the hole… you can use beans, rice, lentils, whatever… I used soft toy stuffing because I knew I would need to wash them often. Once they are stuffed, hand sew the opening shut and there you are. This is a result: A family of soft rag dolls, waiting for eager arms to wake up and care for them.
Clearly, this project has lots of room for extension: buttons and ribbons and all sorts of extra's could be added if certain people weren't quite so desperate for ownership… But since they were made a number of shoebox beds, finger knitted scarves, nifty little blankets and other vital accessories have been added.
I love honest kids art and have quite an aversion to adult art in the name of kids art… you know the parent who can't resist putting their mark on a project… so to prevent my fingers interfering with their project one of those dollies is mine!!! Talk about the true confessions of the blog world!