Twenty Weeks of blogging and still loving it!
We watched the Veteran's Day Parade go by.
We did some baking:
We did some arting and made some Go Dog Go silly hats.
All I want to do when I wake up in the morning is read some books.
We went rose gathering for a best friends birthday, Thank you for the opportunity to spend a Saturday rambling around the country side together!
And found the time to go out for ice-cream. The sort of time I am more than willing to find…
Hood #1: Read some books… and wrote heaps of poetry!
The Hummingbird
The Hummingbird doth sing,
as it floateth on the wing.
It flutters from flower to flower,
slowly tiring hour by hour.
Then it goeth to rest,
hoping it will be all for the best.
The Cat and The Rat
There was a cat,
and the cat saw a rat.
The cat ate the rat,
and the cat got fat.

And so on and so on…
Hood #2: Tried his hand at baton twirling – I have no idea why it appealed!
And he also made every effort to teach his little sister a bit of American History.
Hood #3: Read some books.
And made us all lunch.
Hood #4: Nearly died when he discovered he has a loose tooth – the shock, the horror! He made himself a cell phone, why didn't the wobbly tooth come out with that huge carrot!!!
He read some books and designed some sort of jungle thing.
Hood #5: Read some books and discovered Starfall.
Hood #6: Continued to say "thank-you much" for everything, and I mean everything – what a polite elephant.She did some arting and totally loved making her first hat.
Hood #7: Read some books in the dead of night, while the mother person blogged.
Who can resist something this cute:
The library was closed horrors but we still managed to read some books. Not to mention find a favorite. This one seemed apt with Hood's #1 and #2 losing teeth, Hood 4 wobbling one and Hood#7 up most nights gaining some – you have to read this for the twist!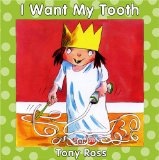 Have a great week!