A Jesse Tree is a symbolic family tree of Jesus following from Creation and Adam and Eve through the Bible until the birth of Jesus. A new symbol is added to your tree day by day throughout Advent.
I have been trying to do a Jesse Tree with my kids for years but I have never managed to get my ducks in a row on time. This year I was determined:
I started off with beautiful felt ornaments from Blissfully Domestic: but we needed something we could grab everyday as we got up sometimes before the links were posted so I have saved those for next year… and looked for something simpler.
This is what I found…
Firstly a list of symbols for each day, with a description and the relevant Bible verse.
And we turned these into flash cards.
And from the same site there was a place to download just the symbols, and we used these to make our Jesse Tree:
I have finally found the resource I am looking for – YAY. Quite simple we are book people and we need books! This is brilliant.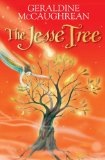 It is the story of Mr Butterfield a fairly cranky old carpenter who is carving a Jesse Tree in the local church. A boy is visiting the town on holiday an interrupts Mr. Butterfield and his very important work. The boy asks carpenter about the Jesse tree and as the Jesse Tree is carved so the story of the genealogy of Jesus develops and so does the friendship between the man and the boy grows. It is a charming story we have thoroughly enjoyed it.
It is a large format book, with beautiful whimsical illustrations by Bee Wiley. It was written by Geraldine McCaughrean and we will definitely look for more books from her in the future.
Really, this is well worth a look.