A week or two back I posted a post: How Se7en Make Pizza in Se7en Steps…
and a little bit about our friend the bread machine.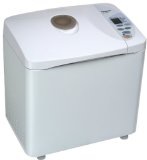 Well did a whole lot of you send me emails and ask me about the bread machine? So I thought I would post a post on a a basic loaf of white bread.
So Lets Meet The Players:
All these measurements are close enough, I never actually measure which indicates just how forgiving this recipe actually is.
half a packet of yeast
1 teaspoon of salt
2 Tablespoons of sugar
600 g of bread flour
a nob of butter broken up
400 ml of water
And Play The Game:
Step 1:Place your dry ingredients into the bread pan.
Step 2: Add the butter on top and pour the water in as well. Don't mix it – really it is this easy. The machine does all the mixing that needs to be done.
Step 3: Now this is a quick loaf of bread so you look for the quickest and easiest setting on the machine. And then you can forget about your bread for about two hours. The machine will mix it.
Step 4: Forget about the dough rising and baking… your friendly machine really does it all for you:
Step 5: Then after patiently waiting for about 2 hours your machine goes beep beep beep… and a small child runs and grab the crispy tippy top off the bread. Perhaps they think I won't notice. Hmmm can you? Don't mind that I am blogging this and half the world will see the top of our picked on bread. Aahh! Reality blogging.
Be sure to use a dishtowel or oven gloves to pick up the bread pan out of the machine, otherwise you will definitely burn yourself.
Let it cool slightly in the bread pan and then turn it out to cool on the cooling rack.
Step 6:And this is the reason I really didn't want a bread machine. You get this strange sort of tower of bread and how in the world will I get enough pieces of bread to feed all of us?
Turns out there is a simple little trick to cutting the bread:
Cut the bread vertically down the centre of the loaf.

Open up the loaf and lay the loaf out to cool a little bit longer.

Turn your bread over and you have a loaf of bread quite a bit longer than your usual store bought loaf.

Slice it as you would usually slice your bread. frankly I wish the machine would do this part too as I am hopeless at slicing bread with any sort of finesse.

And serve it – here it is: one slice with homemade apricot jam that we got as a gift… not to mention one with creamed honey – yum!
Step 7:This loaf is easy enough to adapt:
to whole-wheat bread by using whole-wheat flour.
to gluten-free with gluten-free flour.
to brown bread by using brown bread flour.
to lower-gi-ness of any loaf by adding oat bran to it.
to cinnamon bread by adding two tablespoons of cinnamon to the mixture.
to a raisin or cranberry loaf by putting fruit into the fruit tray, which mixes into the mixture at the right time.
in fact, you can add any dried fruit or nuts or berries…
and so on and so on …
There you go a loaf of yummy bread – enjoy!