I am all for supplying my kids with a steady stream of Christian Heroes it provides them with historical background for church history and gives them a chance to ponder and wonder about their own place in the scheme of God's Kingdom. If you are interested in filling your children up on a steady diet of Christian Hero's then this post is full of resources for you to do the same…
I also wrote a Sunday Snippet recently entitled: Helping Your Kids to Read Worthy Books… and a couple of you asked for a list of associated books – well these would be some of them!
I should add that a large part of our kids curriculum is devoted to reading and learning about Christian Hero's and even if you aren't an avid Sonlighter you should have a look at their list of biographies in their history and read aloud sections – really some great books to inspire your kids.
Resource 1: Light Keepers Series
These books are written by Irene Howat and published by Christian Focus Publictions. The books are geared towards early readers. You can read along with them or they can read them themselves. They provide a chapter story per hero and at the end of each chapter is a key message, a relevant fact, something to think about and a prayer. My beginner readers have loved these because they are reading real books about real people. The stories are easy to read and understand and are a great resource for beginners.
Resource 2: Trailblazer Books
This series of books are really fun Pioneer Christian Fiction for kids. Each one introduces a missionary and spins a story around the facts surrounding their lives. These are one of the first chapter book series that my kids vanish into and read and read and read for weeks on end until they emerge at the other end completely spent of titles! I have found twenty five in the series from Christian Focus Publications, so far. Or have a look at this link for the series by Dave and Neta Jackson. The chapters are short, the stories engaging and my kids have loved them and learnt a lot from them.
Resource 3: Christian Heroes: Then & Now
These books are great for anyone who is over and above easy chapter books. They series is published by YWAM Publishing. These books provide biographies for quite literarily endless Christian Heroes they are easy to read-aloud as a family and a great way to introduce Christian heroes to your family. They are written by the husband and wife team Janet and Geoff Benge.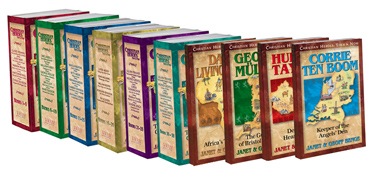 Resource 4: Day One puzzle books: These books are brilliant full of puzzles and games that go beyond the average puzzle books. Not only that but they tell the story of your Christian Heroes with timelines and biographical snippets and all the most important facts are there to be remembered. I wish they had se7en in the series but they only have five so far!
Resource 5: Glimpses for Kids
I have blogged before about the fabulous Glimpses for Kids: Real Heroes for Today. They are made as church bulletin inserts for kids, but work just great on their own. We use them as fun supplements for our school reading. They provide an illustrated biography for a number of heroes, with a couple of comprehension questions at the end of each them. Also you can go online and fill in their online-quizz once you have read them.
Resource 6: Torchlighter Dvd's
On the right hand side of the Glimpses for Kids web page there is a list of links and the last, but not least, is a link to the Torchlighter DVD page. And this is the website I really want to rave on about!
So far they cover:
The point about these sites is not so much the dvd's but the resources! By the time we get there we usually have a pretty good idea about the hero involved and we watch the preview of the DVD. If you take a moment to register – and it is only a moment you have access to their fabulous (FABULOUS!) handbooks. One for teachers: with teaching materials like a biography and snippets on relevant people in the story, a timeline, maps and in depth answers to any of the questions in the student handbook. The student handbook is bright and colorful: With brief biographies of your hero and codes and coloring and puzzles and games – not just about your hero but missionaries in general. These are so brilliant that I just can't rave enough about them!
Resource 7: Se7en – That's us!
Lastly Google is your friend: If you google the name of your hero and add for kids on the end you will find a heap of resources and if you don't want to go so far… Then have a look at our past Sunday Snippets, Here are some missionary hero's we have covered so far:
If there is anyone you would specially like us to find resources for then go ahead and ask and we will put them on our list of Sunday Snippets to come. Be reasonable folks, don't go mad asking us for the most obscure person on earth, I have a team of young researchers!
If you live in South Africa then you can get all the books in this post from Christian Book Distributors, the sponsors from our recent giveaway.