Out came the sun…
And out we went too. Suddenly winter became manageable! And then everyone got streaming colds – even the mother person – horrors!
Cold winter mornings means Puffy Pancakes and hot chocolate for breakfast – I can live with that!
The Celebrity Chef made some cheesy bites.
Not to mention a plethora of pirate puppets.
We read some books:
Otherwise: We went to the Book Fair…
And learnt how a printing press works. The printer gave the kids heaps of huge sheets of paper to take home.
The girl children went home and did coloring…
And the boy children made huge paper jets – and did they go!
We ended the week with a wild dash to the beach with friends and a de-sanding hose down for the worst of the sandiest of them before heading home for a warm bath!
As for me – well if you live in Cape Town now is the time to contribute a comment: I am in the market for a gigantic gigantic swimming costume… I joined the gym a couple of months ago and I have been dragging my greatening body up and down the lanes – while all sorts of elite and lithe looking creatures soar past me. At 14 weeks till #8 I don't want to quit, but I do need to upgrade that cosi… Do not direct me to maternity clothing shops because quite frankly frilly cupcakes are for eating not for wearing. I have always had this problem with maternity wear, just the word sends shivers down my spine. I am a jeans and t-shirt kind of person and I hate frilly ribbons and bits and pieces advertising my bump and trousers you pull up to the ceiling or constantly around your ankles just don't do it for me… I normally just raid the father person's cupboard and upsize my clothes… But for obvious reason I haven't been able to find anything useful in the bathing costume department of his cupboard – help me out here – send me a solution!
As for a book of the week: When people in our house are under the weather we resort to only one series of books and that is Calvin and Hobbes… minimal words for the mother person, maximum pictures and inspiration to all sorts of hideous projects but they are laid too low to implement them – hehehe!!! We have a couple of these that we keep for sick days but look what I found – a complete collection, now that is something to dream about!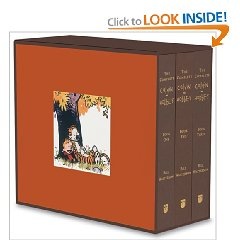 Back to the kids and their doings and viewings:
Hood #1: Did some more zoobing and our house is littered with scorpions.
Hood #2: Spent the entire week launching his giant paper jets.
Hood #3: Went on a sewing frenzy and has been sewing and sewing all week with barley a pause.
And started a gym class!
Some of us just couldn't go the distance!
Hood #4: Had his birthday and did the whole cake chopping thing with finesse.
He had an alarming amount of help with the munching.
Hood #5: Is still working on flat bread.
And has a new and potentially terrifying passion for unscrewing every screw in sight.
Hood #6: Read a whole lot of books and then read some more and some more and some more!
She took her hot dog lunch very seriously!!!
Hood #7: Don't come between a girl and her Dad!
Or her biggest brother.
Yup, she is quite happy to sit and watch that big brother all morning!
Have a Great Weekend!