What a week! Turned out to be truly hectic!!! And the sun came out…
There is a small smattering of spring about.
We ran out of gas, but only once!
We survived the monthly shop…
We had a couple of friends over:
We ate a heap of waffles:
And we went out for dinner!
My little visitor this week wasn't so little, in fact it was a pile of chilies. I have to say that I think some one is after chili poppers.
Hood #1: Instigated a whole host of picnics…
Hood #2: Fixed his sisters bed. Can't imagine how it got broken.
Hood #3: Scientifically proved that her hotdog was the longest by miles!
And she discovered Tintin… and we declare him and his series the book of the week: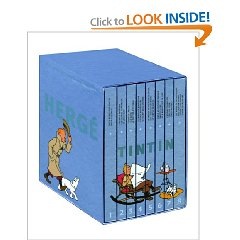 Hood #4: Is my first kid to show any interest in math manipulatives. He used them to make cannons for castle defense.
Hood #5: Took the whole wild thing theme to heart…
Hood #6: Well how cute is that, who wouldn't want to eat breakfast opposite that.
She and her little sister had some great dog days:
Hood #7: Well this sleepy head…
Is a bed thief! And roamed from bed to bed for her daily nap. Every time it got very, very quiet and we went hunting we found this little scrap fast asleep in a different spot!
Hood #8: Finally has a basket of white goodies waiting to welcome it's arrival, not to mention a couple of diapers/nappies. I am sure this basket will be smothered in little welcome cards and pictures from eager siblings before I look again! And if this little Hood would stop doing somersaults and point that little head downwards before our midwife appointment on Tuesday I would be quite happy!
And if you are still reading then you deserve an anecdote:
There was a lot of talk about weddings up on the deck above our kitchen. So armed with my camera I went to observe the event.
The wife to be was suitably late…
and was dragged to the alter…
Hood #7 was the presiding witness:
While the Celebrity Chef did the honors:
"And do you sir, take this young lady to be your wife? Promise to blah blah blah fish paste and to give her all the chocolate she needs?"
"I do" and there was even a kiss for the bride!!!
Meanwhile there were a couple of monkeys that should have been hard at work. But apparently every wedding needs a few guests.
Forget the fish paste, where was the chocolate in my wedding vows? Really I think all future brides to be need to address that!
So that's us, have a good week.