We had some glorious days…
And some cold torrential rain where the only good thing to do was make and eat fudge and wait for the rain to pass!!! We had the week off school and as usual I have no idea how we ever fit school into a day!
We did some blogging:
Otherwise I had my usual little visitors to my computer…
We had some photography fun… well we had fun while somebody dozed!!!
And he eventually peeped at us:
But that was it…
The father person and I had the sort of date one has when you have a newborn in the house: A taste test… and there is only one flavor for me… and that would be Belgium Chocolate! Where have these been in my life, why have I only just discovered them… I smell a conspiracy here!!!
We celebrated a friends birthday with the prettiest cupcakes… with flavors like raspberry marshmallow, and chocolate peppermint caramel… here is a photo of the lemon surprise (packed with lemon curd!)… Needless to say it was the first time in a long tome that I wanted to call the consumer help line – just to say: "Send more now!"
We had our usual frantic play, and we have a new dormitory…
And don't faint, I read a book:- this can happen when you spend most of your waking hours nursing a newborn on the couch. Penguin books sent me this book to review months ago… and every time I opened it I fell asleep – not the books fault at all, but rather the general malaise of pregnancy! So I finally read it, it's by the same author who wrote the "No.1 Ladies' Detective Agency" Series. And it was really good! I enjoyed it… Nothing really happens it is just the snapshot of the lives of folk living at 44 Scotland Street. I totally loved it, who doesn't like people watching…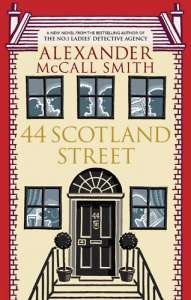 Also, I love the Introducing: Moms' 30-Minute Blog Challenge from Steady Mom… I may even give it a try… I must get more efficient at blogging!!!
Meanwhile I love when we don't do school, my kids come up with all sorts of projects I could never have dreamed of, here are the Hoods at work for this week…
Hood #1: Worked on a book review for:

Hood #2: Worked on his research project all about South Africa and is now alarmingly knowledgeable.
Hood #3: Is lost in the world of reading – Yay!!! I know what she is going to do this summer… I think I spent the summer I was eight reading – not a bad idea!!!
Hood #4: Discovered reading aloud and rebuilt the world.
Hood #5: Took his sister on many "bus – workbench" rides all over the place and back again! Not to mention since he got face paints for his birthday he has woken up everyday and asked for his pirate mustache to be applied!
Hood #6: Read some books…
And dare I say: Made friends with a little mole!
Hood #7: Is one of those organized types (no idea where she gets it from!). She started a nursing sit-in on the couch and for all I know she is still sitting there.
Hood #8: Remains oblivious to life around him and will sleep anywhere as long as his hands are free to whirl and swoop and generally be busy!
His favorite place to be: He adores his fluffy bath towel and could quite easily spend each waking minute in front of the mirror – there aren't many of these minutes, trust me!!!
And he spends quite a bit of time peering at his owl creature!!!
He is still the most beholden creature in the world!!!
That's us – Have a Great Week!!!