Last Sunday I posted a Sunday Snippet: Top Tips GiveAway…and promised the winner by today.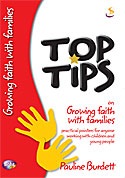 Firstly thank-you so much to all of you folk who entered… And thanks again to Christian Book Distributors for sponsoring us with another book.

The winner was carefully selected, as usual, by Hood #6, who has no bias or leaning towards letters or numbers and so no preference for any of you!!!
We had a cake, left over from all our tie-dying last week…
So we made a flag for each comment…
And popped all the flags onto the cake..
Then she chose a piece:
And…
#10 it was!!!
And #10 was:
Deb // Dec 15, 2009 at 8:41 am
this sounds fab and a great resource.
Anyway, well done Deb and she ate your cake up for you!!!
And to all the rest of you… Better luck next week when I have another fabulous book GiveAway for you!!!