I recently signed up to review books for BookSneeze and got our first book to review this past week…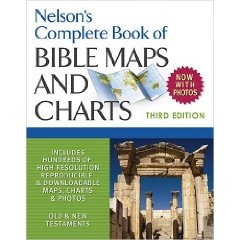 What a book!!! I was thrilled to get this. I popped it onto our bookshelf, with the other reference books when it arrived and and the kids have been pouring over it ever since!!! It is a reference book of note and I know we will use this for school a lot. The title says Maps and Charts but this book has so much more. The maps are all annotated and in color, just reading the maps will teach a whole lot about the history of Bible Times, not to mention who the main players were at the time. The book is easy to read and quite manageable, with information presented in short bite size bits.
It is divided into natural sections of the Bible: The Pentateuch; Historical Books and so on. Then it provides a survey through the Bible book by book. For each book there is an overview, a timeline, a discussion regarding the author, an overview of the main themes and an outline of the book. Each section of the book is addressed and all the relevant maps and charts are included as you go along.
Just when you thought you had the book sorted, you discover a page that gives you a month of daily readings "to help you get acquainted with Jesus"! Really this book is full of lovely surprises. Here's another surprise: There is a link back to the Thomas Nelson website and, after a brief sign up, you can download and print the relevant maps. I love that feature and I think my kids will love it too when they are doing their school research.
In summary, this book is a great Bible handbook for adults and students alike and my kids will get a lot of use out of it over the next school year.
Thanks to BookSneeze for the great book and hopefully I will be reviewing a whole lot more books for them in the future.