It feels like months since we did a GiveAway as opposed to just two whole weeks!!! Anyway this weeks GiveAway is a totally fun one. As usual I have to thank Christian Book Discounters who kindly supplied the book for this GiveAway…

And here's the book from Day One Publishers: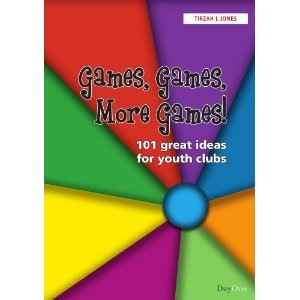 If you have ever been placed with a whole bunch of kids before you for a Friday night club or a Sunday School Class or worse (and this happens to people like me) a whole weekend!!! Then this is a great book to have on hand. Remember if your kids Bible classes are fun they will come back for more and this book seriously has a heap of ideas for fun. It is a collection of games: gap-fillers, action time, mind benders and easy going games. Mostly classics and some you will say – "Oh, forgot about that one!!!" But what a great resource to have up your sleeve, because you know if you pause with a bunch of kids you lose them… you have to keep them engaged and if you have a couple of games firmly up your sleeve then you are good to go. I think if you just skimmed through this book every time you knew you were going to be in the presence of a bunch of kids (even if they are your own!!!) then you will always be equipped for some quick fun.
The book is really easy to find what you are looking for with a page a game layout. No bells, no whistles and no lengthy explanations. Simple direct instructions and on to the next game. No hidden message, no secret agenda, seriously just a bunch of great games. And the games are versatile because there is no application, the games are simply stated and it is up to you to adapt them to whatever lesson you are teaching.
Well we put this book to the test and spent an afternoon playing games from it, here come se7en of the best and I saved the very best for last:
Spell your name: If a letter from your name is shouted out then jump forward a step… we have a few spelling issues!!!
Mini-Olympics: I have done a whole weekend of Olympics with a large group of kids: indoor/outdoor/clean/dirty/wild/mini… I could have done with a couple of these ideas! Here's mini javelin:
Classic Over-Under:
Human Tic Tac Toe: Unfortunately half our teams wandered off during this one!!!
Three Tags and You Are Out: This was my best and I can see this being a favorite somewhere bigger, like the beach. First time you are tagged you put your arm behind your back and it stays there, the next time your other arm and it stays there and the third time you sit down and you are out. Very fast, very frantic, very fun.
Chubby Bunny: We didn't have marshmallows but we had one taker who wanted to stuff as many biscuits into her mouth as possible…

And the "se7en + 1th" game:

Apple Bobbing: Because sometimes you forget to make stuff fun in the everyday!!!

And finally another "se7en + 1th" game:

Wink Murder: This one was new to me and I thought it was a little tricky for certain players. But the name got them curious. All my kids simply loved this, it was their favorite by far and they have played it for hours and hours and hours already. One player, the detective, leaves. The others decide who is the wink murderer. The detective returns and watches closely while the wink murderer winks at players hoping not to be noticed. If you are lucky enough to catch a wink then you keel over with great and elaborate drama… well the last part we added in, but trust me it's vital!!!
The GiveAway works in the usual way, comment before the end of this coming Friday, 30 April 2009, and I will draw and publish the winner next week on Sunday! – I won't respond to your comments as I do on our other posts because I don't want to be included in our own giveaway.
Our GiveAway Books are open to everyone: If you have won a GiveAway before never fear – enter away. If you live on the far side of the world – enter away. Postage takes forever from here but eventually it should get to you!
Good luck and get commenting!