So we had a week off school and I was going to do SO MUCH… mending, finishing projects, getting up to date and ready for school. Absolutely none of that happened… but a week of fun and outings and mad doing and resting and e.v.e.r.y.t.h.i.n.g. I actually feel good to go again… Meanwhile here are our links for this week:
Here are se7en + 1 of my favorite things from around the blog world this past week. Hop around you are sure to find something that inspires you:
P.S. Last week, in our Saturday Spot,  I posted all about electric bikes to hire – well their website is up and functioning so if you are looking for an interesting way to see Cape Town, then follow the link.
Otherwise: Link Up a Fun thing you did with your kids this past week… or if you have a post of your favorite links this week then go ahead and add them to ours… or any post you wrote or read this week and loved…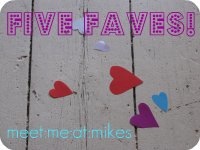 Here are the rules:
Anyone of our crafty/mom blog reader friends are welcome to join in.
Any of your kids who want to write a blog post and link it in are welcome to join in.
Please mention "Se7en's Fabulous Friday Fun" in your post and direct the readers back to our Carnival. For example: "I linked this post to Se7en's Fabulous Friday Fun" would work for me!!! Or pop our button onto your site. so that other readers can enjoy a couple of your favorite favorites… and get to meet all of you.
Make sure you link to your fabulous post and not your website, so that it is easy for readers to find your favorite… rather than wading through everything!!!
Enter a very brief description of your post in parenthesis in the Mcklinky line where you enter your name, so that we know what to expect when we get there.
Visit and leave comments on other folks posts who enter the Carnival – it is the nice thing to do!!!
Finally this is a family blog and remember some folks kids are reading it – please keep your posts appropriate. I reserve the right to delete any post that would not be appropriate for my kids to glance at.
Thanks for playing, Link away, Comment away… I am dying to hear from you!!!