Firstly… Welcome to all the visitors I am getting from From Africa, With Love. What a lovely surprise!, I totally love link love!! And I hope you have fun browsing around our site… And if you are one of our readers and you want see one of the cutest guys in the world swinging gloriously in front of Table Mountain then pop over for a visit… And if you have a creative way of getting a camera for a friend in desperate need then let her know!!!
Meanwhile, for all of you who entered our postcard swap… they are finally coming… not quite on the way, but addressed and artwork is drying and stickers are stuck and yup, never fear they are coming we haven't forgotten you!!!
I am the most hopeless responder to tags, awards, memes and such like – but I do like reading other folks responses!!! So it is only fair that I share… I would like to say that recently…Time to Craft tagged me… and I thought "but of course I will get back to you in a day or two – needless to say I never did and it isn't even recently anymore!!!
So here was the challenge. Answer these questions:
If you could spend time with a historical figure, who would it be?

Hmmm, I would love to be a time traveler, not so much to meet a specific person but to be a fly on the wall!!! But you asked for a person and since I love notebooks and I love inventions I would have to say Leonardo… I would love to have seen him build his flying machines.


What kitchen appliance could you not do without?

My Kitchen Aid, I use it every single day without fail and I have for the last ten years. I got it from one of my very best friends when she moved back to the States. It has fond memories and I wouldn't want a day to pass without it!!!

Is your heart in the town or the country?

I think my heart is in the country, especially if the country involves the seaside and a patch of ocean. I love the great outdoors and having space to play. But to be honest and regardless of what I think, the father person and I love being in the heart of a city and the hustle and bustle and just cosmopolitan, noisy life. The smell of coffee shops, the quiet of bookshops, the cram and bustle of getting places… So while I think my heart is in the country I will always like to live close to a city center for a pick-me-up.

Your three favourite books?


Jane Eyre. Without a doubt my favorite book. I am prolific reader and I could choose hundreds of favorite books, but my all time, would take this to a desert island book, just has to be Jane Eyre. It has intrigue, suspense, compassion, not to mention unrequited love… totally cool book!!!

The Dark Is Rising Sequence. My favorite childhood read… It is a series, but you can buy it all in one book, so I hope that counts… It is the story of the battle between the light and the dark, good and bad. The hero is Will Stanton, an 11 year old boy and when I was a kid I so wanted to be part of his world… These books are packed with Welsh and Arthurian legends and set in the South of England and Wales… I still read these books again and again, I have always loved them and really wanted to live right inside them. They did bring out a movie of these books but like most movies of books it was just not worth the time… forget the movie, read the books.

And my third choice: I just can't remember the name of this book (see question six in my list below!!!) This book is written like a diary and is the ordinary life of an ordinary women… she lived in England and started a diary when she was a child… and it is the story of her ordinary life, the ups, the downs , the joys, the sorrows… from childhood until her death!!! Read, read, read… she adopts her sisters kids, she raises them and her life wanders and twines through the last century!!! I couldn't put it down!!! Reading it is a bit of an eye-opener, our ordinary mundane lives are not that ordinary after all and the mundane-nous of our lives are not nearly as mundane as we think. Anyway the whole time you are reading you are wondering is this fact or fiction? Well you find out on the very last page of the book in very small print!!!

Favorite childhood place?

Favorite Childhood Place has to be in a book, heaps of books, I read and read and read… I spent summer reading, I spent winter reading… I read!!! So I am keen for my kids to read because I really believe that if you can read you can "go anywhere."

Are you superstitious?

Not at all, but when I was a kid I always bounced the ball three times before I served in tennis… hmmm not superstitious, but I like my little rituals – opening the chocolate slab just so, whispering have a good day into all the little people's ears in my house every morning, even the laundry… Yup I like rituals!!!

Tea or coffee?

Coffee… oh coffee!!! Black coffee, creamed coffee, iced coffee… anyway it comes coffee.


What is your favourite pudding?

I have no idea… favorite, favorite… thinking… thinking… Aha!!! Hagen Das Chocolate ice-cream, from the tub of course – it's another ritual!!!
And now I need to pass on Se7en + 1 questions to my merry band of readers… Don't you just love memes!!!
What are you having for breakfast today?

That's my next post!!!

What is your favorite way to spend a day?

Mooching around at home… even better getting something done that needs doing in our house and then mooching around in satisfaction!!!

If you were off to a deserted island who would you take: no-one only too pleased for the peace or one hundred of your closest friends, you can't stand to be alone?

That's a tricky question… I think I would take the father person, he is my best friend and he seriously needs a rest!!! Also, I couldn't stand to be without my favorite short people in the world, even for a couple of hours, so I would have to take my little Hoods. Otherwise I would leave the rest and get some peace… see you all when we get back!!!

If you had to teach your kids one survival-skill before they left home what would it be?

Nothing deep!!! My kids must just know about food, where to get it and how to eat it.

If you could go anywhere in the world this weekend where would it be?

Just a quick trip…I think I would like to take my kids to Florence for the weekend – best food in the world there… BEST food. I would love them to walk about ancient streets, eat some brilliant pasta, look at a gallery and eat gelato as they people watch.

What is something you would like to change about yourself?

Names, I am totally hopeless at them… I called a friend at church Frank for over a year before I finally discovered his name was Tim. It isn't just people, I didn't write this post for three weeks because I couldn't remember the name of my favorite book – I have read it countless times and can see the cover, but right now it is lent out and I have no idea what it's name is!!! So I still don't know!!!

What is your favorite gadget?

Well I love my kindle with all my heart, but it has been hijacked by some shorter folk… So I will say my iphone… I can read all my kindle books on it, I can see who is commenting on our blog when I am out for the day, I can stay in touch with friends, I can plot and plan blog posts, I can collect Dr. Seuss apps, I can play games with my littles kids and my biggest kids, I can listen to podcasts… I just love it!!!
And the Se7en + 1th Question:

What's your all time, can't miss a post, favorite blog?

I am not going to answer this one… I have a couple of hundred blogs in my feed and I read them all whenever they post… design, artsy, craftsy, mom-blog, journals, baking, homeschool, how-to-blog… I just love the internet!!! So send me some lovely new blogs to look at!!!
And a million Thanks to Sofia's Ideas for her Versatile Blogger Award… Wow!!! Follow the link to see her latest and greatest fifteen favorite blogs…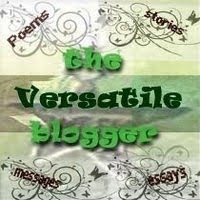 Hopefully this list has helped satisfy the criterion for se7en things about me…and you will have to go and look at all the links down the right hand side of my site to find all my favorite blogs… If they there I love them.
So this was going to be my thirty minute post for the week, a quick meme!!! It was Steady Mom's last week of 30-minute posts… It took far, far longer… all that time trying to remember the name of a book!!! So after a year of writing thirty minute posts I missed the last deadline – it is a mad, mad world, Sorry Steady Mom!!!