I can't be the only parent in the world who wants to give her children the world for Christmas. With eight small children I appear to be a marketers dream, really I want what is best for my kids and I want them to be happy!!! But, also like most of us, I have been blessed with a bit of discernment and a budget. So yes a mountain of gifts under the tree for Christmas would surely thrill my kids for a moment but I want more than a fleeting moment of happiness for my kids… I would love to give them a pile of gifts that can't be bought in any store:
A Crate of Courage: "Be strong and courageous. Do not be afraid or terrified because of them, for the Lord your God goes with you; he will never leave you nor forsake you." Deuteronomy 31:6
A Folder of Faith: "Let love and faithfulness never leave you; bind them around your neck, write them on the tablet of your heart." Proverbs 3:3.
A Gift of Grace: "But grow in the grace and knowledge of our Lord and Savior Jesus Christ. To him be glory both now and forever! Amen." 2 Peter 3:18.
A Jar of Joy: "You became imitators of us and of the Lord, for you welcomed the message in the midst of severe suffering with the joy given by the Holy Spirit." 1 Thessalonians 1:6
A Package of Perseverance:"…Let us run with perseverance the race marked out for us, " Hebrews 12:1
A Parcel of Peace: "Let us therefore make every effort to do what leads to peace and mutual edification." Romans 14:19.
A Sack of Salvation: "…Let the earth open wide, let salvation spring up,let righteousness flourish with it; I, the LORD, have created it." Isaiah 45:8.

And the Se7en +1th gift:

A Heart to Serve: "Serve wholeheartedly, as if you were serving the Lord, not people,…" Ephesians 6:7.
Now it is hard to give kids gifts like these!!! Really hard!!! And the easiest way is to pray for them and provide them with fabulous role models. When you are looking for role models then you have to look no further than the Bible that is packed with great role models… and they aren't all airy fairy people either. They were real people with real lives and real feelings and real heartbreaks… And yet some of the people in the Bible literally jump out as people I would like to ask round to dinner so that my kids could meet them!!! People like: Miriam; Caleb; Rahab; Boaz; Hannah; Jonathan; Abigail; Elisha and the Shunamite Lady; Naaman's servant; King Jehoshaphat; Mordecai and Ebed-Melech in The Old Testament. People like Anna; Andrew; Joseph of Arimathea; Ananias; Dorcas; Lydia; Priscilla and Aquila; Luke; Barnabas and Onesimus in the The The New Testament… Well you can find all of these heroes in this weeks GiveAway…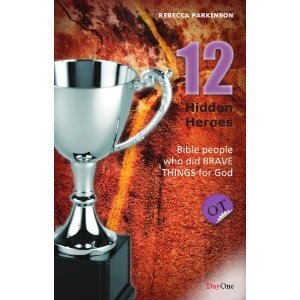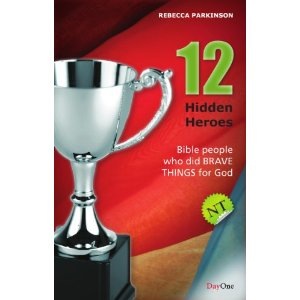 These books are packed with stories of great heroes from the Bible, not necessarily the first people that might have sprung to mind, but heroes nonetheless!!! The stories are fantastic, not just repeating the Bible story but really bringing the life and times to life!!! I read them to my kids and they loved them!!! They make pretty easy reading and would easily be read by a "Chapter book reader." They are published by Day One and have their usual style… short easy to read chapters followed by a couple of questions to think about. They make great bed time reading and would make a fabulous Family Bible Study…
As usual I have to thank CBD, our GiveAway book suppliers for some more great books.

If you would like to win this fabulous book then go ahead and enter our GiveAway. The GiveAway works in the usual way, comment before the end of this coming Sunday, 12 November 2010, and we will draw and publish the winner next week! – I won't respond to your comments as I do on our other posts because I don't want to be included in our own giveaway.
Our GiveAway Books are open to everyone: If you have won a GiveAway before never fear – enter away. If you live on the far side of the world – enter away. Postage takes forever from here but eventually it should get to you! Good luck and get commenting!!!