When the Happy HomeMaker asked me to join her "Around the World in a Day " I just couldn't refuse…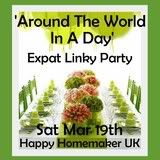 Just pop over there for the geography trip of a life time – it's fabulous… I know I am a day late but at least when you pop over and visit you will have heaps of links to look at. I know I have spent ages on a virtual tour of the world…
So I thought and thought what would folks like to know about Cape Town and I thought and thought some more… What if you just had one weekend to visit Cape Town then where would you visit and what would you do?
Well Friday night:
I would head for
Table Mountain… and a trip up the Cable car
is a fabulous way to get a birds eye view of the city and the surrounds and even further to the surrounding surrounds!!!
Saturday morning:
I would take a drive straight down the False Bay side of the Peninsula for
a fine coffee and pastry breakfast in Kalk Bay
and a browse around all those pretty shops and even the harbor…
Keep on driving down through Simonstown and stop and have a look at the
penguins roaming around on Boulders Beach…
Then on to the tip of the peninsula at Cape Point where you are highly likely to be bowled over by sheer beauty…
Back in the car and head up the Atlantic side of the peninsula, through
Noordhoek,
where I would definitely stop for a lingering lunch. Then on over Chapmans Peak and through Hout Bay. And on to Clifton and Camps Bay for an evening on the beach or dinner at a really fancy restaurant.
On Sunday Morning:
I would head for
Kirstenbosch Botanical Gardens
for breakfast and a wander around in the most beautiful gardens.
Once you have finished exploring Kirstenbosch I would head for
the WaterFront
you can catch a peak at a bit of everything. You can go on a Robben Island Cruise and learn some South African history or you could stop by the Two Oceans Aquarium which is world class, there is even a scratch patch where you can dig for treasure… You can do a harbor tour on a boat, you can even visit a pirate ship. I kid you not there is some brilliant fun to be had here by everyone.
So if you had just one weekend in Cape Town where would you visit?
And if you would like to see more of our Saturday Spots then please feel free to visit the collection.