The time has come for us to start learning chunks of the Bible and to place His word in our hearts. We have a smattering of verses from here there and everywhere but I think the easiest place to start would be to learn a collection of Psalms. This weeks GiveAway inspired us to start with Psalm 23.
It is a good place to start. Firstly it is familiar and we sing versions of it in Church often enough. We began by talking about it and making sure that we understood the meaning of each of the phrases, verse by verse. Now we are learning it, and I will let you know when we are done!!!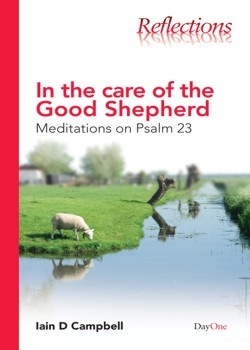 In the Care of the Good Shepherd: Meditations on Psalm 23 by Iain D. Campbell
This book is an interesting read and would make a great Bible Study for yourself or your family. There is lots to talk about, because Psalm 23 is so familiar to us I think we often forget to really read it. You know familiarity makes us so comfortable that we forget the impact. This little book will make you rethink Bible verses that you may have known all your life. The author, Iain D. Campbell, wanders through the Psalm exposing nuggets of truth, line by line by line. At the end of each Chapter there are a couple of points to ponder, things to make us think about what we are reading and to help us remember what we have read and carry it through our days.
For example almost everyone has heard the first verse: "The Lord is my shepherd, I shall not want." How often do we say "The Lord is my shepherd" and we mean everybody else's shepherd and continue to beat along to our own drum. Here is a point to reflect upon, taken from the book:…
"Here is the all important question: Is Jesus mine? It is one thing to know that he is a great and good shepherd, but it is something else to claim that he is mine and to say, "He is all this for me."
As usual I have to thank CBD, our GiveAway book suppliers for another great book.

If you would like to win this book, then go ahead and enter our GiveAway. The GiveAway works in the usual way, comment before the end of this coming Sunday, 10 April 2011, and we will draw and publish the winner next week! – I won't respond to your comments as I do on our other posts because I don't want to be included in our own giveaway.
Our GiveAway Books are open to everyone: If you have won a GiveAway before never fear – enter away. If you live on the far side of the world – enter away. Postage takes forever from here but eventually it should get to you! Good luck and get commenting!!!