You have to love this Bible, it is great for kids – we read ours everyday at lunch time and I often find my kids browsing through this book looking for projects… he! he! he! They are browsing through the Bible!!! I can't say I would have done that as a child.
I can not rave about this Bible enough, it is the Bible my children want to read and I have included se7en of their activities in this post for you to see how quick and easy they are. They also have a good website where you can download free curriculum samples, articles and ideas.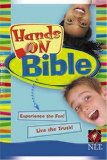 The thing about this Bible is it is for kids, but it isn't a story Bible, it is the real thing, The New Living Translation. It is packed with heaps of activities – hands on learning at its best – no more worksheets, word searches, coloring pages or mazes!!! The activities inspire discussion – they are crafts, science experiments, very simple recipes to try – a whole range of things to do.
It has a fun introduction to each book of the Bible, including a mini timeline and a Jesus Connection. There are Bible Hero Biographies scattered throughout as well. With each of the biographies there is an associated activity.
It is also spattered with great Fun Facts, and instant object lessons. Here are some examples just from Genesis:
There are 52 Key Verse Activities, Aha! Thats one for each week of the year – now these are scattered throughout the Bible, but they are cleverly (for the adult reader!) collected at the back, in a series of family devotionals. Here are two examples:
First read 2 Chronicles 7:14. We took two pipe cleaners per child and cut them in two… then everyone could choose four halves to work with. Fold each stick into a corner at the center and thread a bead into the middle of them. Place each of the bent sticks next to each other and twist the pipe cleaners together – you should end up with a cross and the four beads are two remind us of the four things God asks us in the Bible verse: Be Humble; Pray; Seek God and Be Good.

The Bible says someone is knocking at the door. Print a door hanger, from this template, for each child. Get each child to write Revelation 3:20 on it. Then decorate the door hangers with stickers and things. The door hanger is a reminder that Jesus is knocking on everyone's door.
The Reference section at the back is great: A Bible F.A.Q., charts, maps, dictionary/concordance, lists of where to find specific verses and all the hands-on activities are collected together in a section for family devotionals.
As you can see there are lots of fun learning opportunities in this Bible and I hope you can get your hands on one and have as much fun as we have had.