Tuesday Art Task Time: How many brilliant art projects haven't been inspired by the brilliant Eric Carle and his wonderful papers. Our favorite book of his, well there are countless – but the one we are enjoying at the moment is: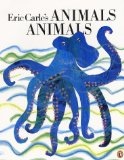 So we started out with paints and blank paper.
And we got painting…
And before you know it we had quite a collection… of brilliant papers… great for a heap of potential projects.
Then what to do with it? A collage, with tearing (no scissors) and lots of watered down cold glue.
A debate ensued: animals? bugs? beasts? buildings? vehicles? Rockets won – and here they come:
Plotted, planned and stuck. We painted over them with the watered down cold glue – it makes a nice shiny finish… and if we had had any glitter left over from The Venetian Carnival Masks in plaster of paris, then now would have been the time to sprinkle. Anyway, here they are – some taking a little more poetic license than others… but trust me: Se7en Rockets:
And finally trimmed them down for intergalactic travel…
You are ready for take off! Have fun!!!