This week was so removed from our normal week. The weather continued as usual. No rain over Cape Town.
In fact it has been so warm that we have had a lot of late night visitors, battling to sleep. Here is one of them, we popped him on the couch with a cook book. He glanced at the father person's tv screen:
So what did he see? It was an old rerun of Superman, and quite frankly he had never see a man in tights fly before. Once he got over the initial shock he was amazed and thought it was the funniest thing he had seen in a long time.
We started the week by being gifted: A friends daughter went to Switzerland and brought back a whole party of toys, chocolate, postcards and so on!
And set off a whole trail of thank-you letters…
Breakfast was typical:
And we have been working really hard on upgrading and refining the book nook already!
Hood's #1 and 2: Set up a puppet show of note, with all the bells and whistles.
Hood #3: Led the charge in the great cooking extravaganza.
Hood #4: Thought he would put his siblings to sleep in the middle of the day – no such luck!!!
Hood #5: Practiced his Eton Mess.
Hood #6: Discovered a butterfly.
Hood #7: Continued to steal all the towels.
But the most exciting thing was a wonderful visit from our great friends and the kids godparents – all the way from America.
We haven't seen them in five years, thats a long time to be apart. We
all had a wonderful time making new memories and catching up.
Gifts galore and my crayola fixation has been satisfied!
We went strolling and rose picking through Chart Farm.
Blew away on the beach!
And spent hours on the couch – reading of course.
Absolutely no sorting, decluttering or school preparation. Not a single drawer. A complete holiday – wonderful!!!
This is our book of the week, in fact if I was to be deserted on a desolate island with a bunch of little kids (or big kids for that matter) this is the book I would want to take with me. It is packed with twelve classic picture books. Often when you have a story collection the stories are compromised to fit them all in. But not with these, each story is printed full-size not a picture or word has been changed- Wonderful! We love this book and have read it over and over and over again! You are never to big for the ageless stories in this book, they really have been chosen as the most lovable of all times collection.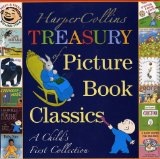 That's it – Have a Great Weekend.