We get asked about "Where the Wild Things Are" Crafts a lot and it just so happens that we managed a really quick and easy one!!! But before we get going I thought I would pop in a few links to our other beastly crafts – all in one place and all that!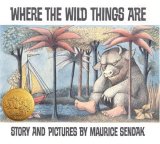 Wild Beastly Crafts by Se7en

From Around the Web:

From the Children's Discovery Museum of San Jose:
A fabulous quick and easy craft inspired by Where the Wild things Are. Trust me leave your kids with a pack of split pins and card and they will be occupied for hours – or until they run out of pins! This is what you are aiming for:
Let's Meet The Players:
Markers
Card
Scissors
Split Pins
Let's Play The Game:
Step 1: We began with a mad marker frenzy. Even the shortest one had to partake in this step!
Step 2: Cutting and snipping!
Step 3: Then came the moment of deep concentration. I poked a hole wherever they needed them, using the sharp end of a pair of scissors. We tried a punch but the whole was too big… the scissors worked better and squeezing the pins through the card made the arms and legs swing better.
Step 4: And we were done… and we had a whole lot of wild beasts.