We recently had a "Where the Wild things Are" Party… We love this book and we have blogged about it many times before! Book parties are always good and when someone has a "Best Book" it makes for a great party!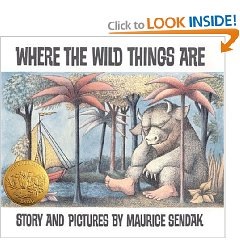 Anyway a particular wild thing turned three and we needed to celebrate!
Following the outline of se7en steps to a great party on our practical party page lets get going (If you need details on how to do something then follow the link for that particular step):
Step 1: Invitation: I love personalized invitations, but that doesn't mean that they have to take years off my life!!! I printed out an activity sheet here and a book cover off google images. Cut. Cut. Snip. Snip. Done.
Step 2: Party Starter: Obviously we read the story – more than a few times!!! And a little trick is replace the name in the book with the kidlet's name – ooooh! (I do this with Fairy Tales as well and they love it!!!)
We could have made tents, we could have made crowns, but we built a boat out of a box so that Hood #6 and friends could "sail away through night and day and in and out of weeks…"
Step 3: Party Games: This party cries out for musical chairs (just make leaves, giant leaves out of newspaper and play musical forest leaves). You could also make a maze of streamers round your home or garden (call them forest vines) for them to sort themselves through.
We had a wild rumpus, with wild roars and gnashing of teeth and terrible claws…
Step 4: Party Craft: You can find heaps of crafts in our Where the Wild Things Are – Round-up.
We made: Terrible Yellow Eyes…
But we could have made: Wild Thing Articulated Beasts.
Or we could have made: Wild Thing Shadow Puppets.
Step 5: Party Pinata: Since our party was in the middle of two weeks of rain there was no chance of drying out a pinata, I needed an instant idea and made mini-pinata's out of newspaper… Drew the outline on a piece of folded newspaper. Popped a surprise in the center and used glue stick round the edges. Sealed them shut and we were good to go.
Step 6: Party Food: After romping around they made mini pizza's: wild thing faces, to munch on. And for the cake I know you can get brilliant wild thing cakes ideas on the web, but I needed something instant and I am no Bakerella! So crowns it was… Baked some cupcakes, iced them pink – of course, cut a wafer biscuit into triangles and place them round the cupcake. The most wild thing's crown, wallah!
Step 7: Treasure Hunt: Finally we had our treasure hunt and quite frankly: a forest grew and grew until the garden was hung with vines. There was a mad dash… and we were done.
That's it – quick and easy… Have Fun!