So it's Sunday and time for another GiveAway. As usual I have to thank Christian Book Discounters who kindly supplied the book for this GiveAway…

Here you go, have a look at this beautiful, beautiful Noah's Ark the words are from the Authorized King James Version of the Bible and illustrated by Jane Ray.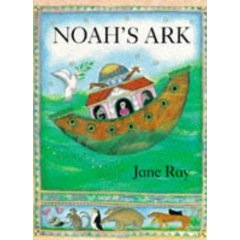 Everyone has heard the story of Noah countless time, it is a classic tale from generation to generation. And who doesn't love it!!! So how do we make it memorable instead of rote. It is the one Sunday School class that you can be sure your children will do – a cardboard ark with little animal stickers spattered all over it. It is one of those art classes where you can be sure that every child will know the story and be able to make an art work with from it… So how does one make it memorable?
Food is your friend:
We made a pizza ark:

And quick animal crackers – roll out some puff pastry (I always have a packet in the freezer) and stamp out some animals, using cookie cutters and sprinkle with castor sugar. Bake in a medium oven for about 8 minutes until they are crispy.

Eventually, after weeks and weeks on board the ark Noah sent out a dove and it returned with an olive leaf – we made some minty chocolate leaves, and you can learn how at Ordinary Life Magic:

And if you really want to go the extra mile then make a rainbow cake.
So there is some nutritional Noah inspiration… and here are some links to inspire you, have fun finding Noah goodies:
If you would like to win this stunning book then go ahead and enter our GiveAway. The GiveAway works in the usual way, comment before the end of this coming Friday, 20 November 2009, and we will draw and publish the winner next week on Sunday! – I won't respond to your comments as I do on our other posts because I don't want to be included in our own giveaway.
Our GiveAway Books are open to everyone: If you have won a GiveAway before never fear – enter away. If you live on the far side of the world – enter away. Postage takes forever from here but eventually it should get to you!
Good luck and get commenting!