It is official, March will be a month of cookbook reviews. It just so happened that I got some brilliant cook books from the library and we have been cooking up a storm. Twenty one new recipes tried and tested in the last few days!!! Now I mentioned this book in a previous post, Se7en South African Book Resources for Kids, and said I would get back to it… Back we got!!!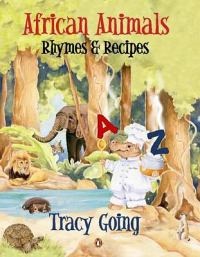 This is an alphabet book with a difference!!! There is an animal for each letter of the alphabet and we have read all the way through the quagga and right on to the zorilla. Now you may not know what a quagga is, but I had never even heard of a zorilla and frankly after reading about it I am quite glad we have never met!!! Each animal has a poem of about four verses packed with facts… some amazing facts and then followed by a recipe. At first glance I was a bit disappointed because the recipes weren't African per se, I was quite mistaken in my dissappointment – the recipes are brilliant and really easy and my kids totally loved them and dove right in because, and here is the brilliant thing: ALL the recipes are totally doable by kids!!! The instructions are easy to follow, the ingredients are easily on hand and really I had very little to do with this review other than to offer an approving: Yummy from time to time!!!
So here we go Se7en recipes:

That's it a fun book, we all enjoyed it!!!