This is our last in the month of cook book reviews and I have to say: "I have saved the best for last!" I don't know why this is called a children's cookbook – it is totally fabulous I haven't had a grown-up pass through our home without picking it up and saying "Oooh, I love this book!!!"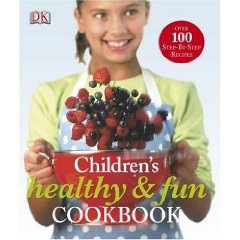 Oh my word, gone are the days of kids cook books being just about instant cupcakes and grilled cheese… With Dorling Kindersley's inimitable brilliant photography you will be taken on a tour of heaps if not hundreds of great healthy recipes. I found my kids more than once doing a self-led cooking experiment from this book!!!
There are of course not just recipes: Food Facts Abound, little "Did you know?" boxes on every page, Helpful Hints and Tasty Twists, which offer a whole variety of ideas to adapt any given recipe.
Did you know? The word flapjack has a different meaning if you are standing in the USA or the UK… trust me on this!!!
Did you know? The word "Buritto" means little donkey in Spanish. Perhaps because a rolled up tortilla resembles the ear of a donkey.
My kids wanted to try almost everything and we cooked and cooked and cooked. Here are se7en of the chosen recipes:
Strawberry Scrunch: Well this redefined breakfast around here!!! Easy as pie… Porridge oats and a selection of seeds dry roasted in a pan with a coating of honey… topped with berries and yogurt. Thank-you very much I will take that!!!

Peach and Orange Lollies: I am so boring with our lollies – fruit juice or yogurt that's it. But these were so easy!!! Actually I tossed a couple of fruits, not just peaches, into these and even my "only apples are a fruit" child galloped these down the hatch!!!
Fruity Flapjacks: We call these "crunchies" here and I make them so often, but a layer of fruity yumminess in the middle is a really neat twist!!!

Baked Eggs and Ham: We didn't have ham and just used bacon and these were delish!!! And they are now on our lunch menu once or twice a week!!!
Tuna Quesadilla's: And this is where a tasty twist came in – we didn't have tuna so we used beef strips… Everyone wanted to try these so we whipped up some wraps, cut a few vegi's, grated some cheese, and so on. We were good to go… almost instant supper and far more filling than anyone thought it would be!!!

Lamb Kebabs: Oh yes, these were totally good and a whole lot of different varieties were suggested in the Tasty Twists section – a veritable "round-the-world-meal."
Griddle Cakes: We call these corn fritters, you get the idea – easy kidable recipe.
The last two recipes were bravely tried by hood #3, age 8 who took supper into her own hands… And just to prove it is a truly kid friendly book she totally managed dinner, for a large family of food critics, almost entirely without adult intervention… Lamb Kebabs, Griddle Cakes and Savory Couscous.
That's us, on a ranking of "five stars" being excellent we give this book: Oh about ten stars!!!
(Secretly I could review books for Dorling Kindersly forever – unfortunately all my reviews would say: Marvelous, Great Book!!! Actually if you live in the UK you can join Club DK and review books for them… we are only a continent away!!!)